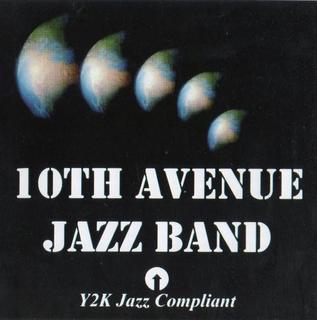 A 10th Avenue Jazz Band az egyik legkeresettebb amerikai együttes! Bár Amerikában is fellépnek évente mintegy tíz-tizenöt fesztiválon, mégis az év szinte nagyobb részét külföldön töltik. Bejárták már az egész világot
Malaizíától Japánon, Tazmánián, Kínán, Izraelen, Törökországon, Egyiptomon és Új-Zélandon keresztül Mexikóig és Oroszországig.
Profi zenészekből áll, akiknek hitvallása, hogy a tradícionális jazzt minél
nagyobb közönséghez tudják eljuttatni. Ennek érdekében a hagyományos New Orleans-i számokat is úgy dolgozzák fel, hogy azok "maian" szólaljanak meg. Nem riadnak vissza a már-már rockos betétektől sem, legúiabb CD-jük alcíme, egyben szlogenjük szerint: ők a XXI. század dixielandjét játsszák.
Ed Zimrick – harsona, ének, karmester
Lewis Keizer – kornett, vokál
Joe Ashworth – fafúvósok, vokál
Charlie Clark– zongora
Dan Zeilinger – basszuskürt
George Ursan – dob
Pat Dinneen – bendzsó
Tracklist:
01 – San Francisco Bay Blues
02 – Audubon Zoo
03 – The Pearls
04 – Rhythm King
05 – Smokey Mokes
06 – Nobody's Sweetheart Now
07 – Ballin' The Jack
08 – Jazz Me Blues
09 – Jackass Blues
10 – Someday You'll Be Sorry
11 – Beale Street Blues
12 – Trio Medley
13 – Forever
14 – Old Time Rock-n-Roll
Külön köszönet Nagygazemberimi-nek a lemezért és az eredeti feltöltésért!
https://tinyurl.com/y6qew2va
Találatok: 50