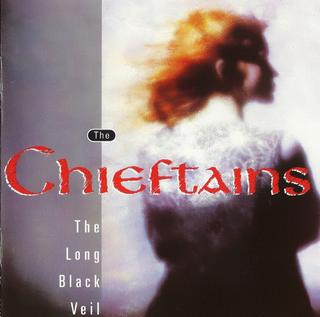 The Chieftains egy többszörös Grammy-díjas tradicionális népzenét játszó ír zenekar, amely 1963-ban alakult. 44 év alatt 42 albumot adtak ki, 18 Grammy jelölésből hat ízben azt el is nyerték. Nemzetközileg valószínűleg a kelta zene legfontosabb képviselői.
Nemegyszer a világ legjelentősebb előadóival is együtt muzsikálnak, például Marianne Faithfull-lal, Sinéad O'Connorral, Stinggel, Van Morrisonnal, Mark Knopflerrel, Tom Jones-szal, Mick Jaggerrel, Joni Mitchell-lel, Bonnie Raitt-tal, Natalie Merchant,-tal Loreena McKennitt-tel, Joan Osborne-nal, Luciano Pavarottival, stb., stb… Jó példa erre 1995-ös albumuk, a The Long Black Veil.
Tracklist:
01 – Mo Ghile Mear – "Our Hero" (feat. Sting)
02 – The Long Black Veil (feat. Mick Jagger)
03 – The Foggy Dew (feat. Sinéad O'Connor)
04 – Have I Told You Lately That I Love You? (feat. Van Morrison)
05 – Changing Your Demeanour
06 – The Lily Of The West (feat. Mark Knopfler)
07 – Coast Of Malabar (feat. Ry Cooder)
08 – Dunmore Lassies (Instrumental) (feat. Ry Cooder)
09 – Love Is Teasin' (feat. Marianne Faithfull)
10 – He Moved Through The Fair (feat. Sinéad O'Connor)
11 – Ferny Hill (Instrumental)
12 – Tennessee Waltz / Tennessee Mazurka (feat. Tom Jones)
13 – The Rocky Road To Dublin (feat. The Rolling Stones)
Külön köszönet Nagygazemberimi-nek a lemezért és az eredeti feltöltésért!
https://links.snahp.it/qG3xVuNT1QT84ljEOwC3lUMSL9ktn808VuO
Találatok: 18