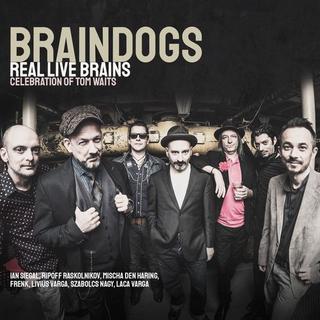 A Braindogs már jó ideje a hazai koncertélet legnagyobb nevekből álló tribute-zenekara. A zenekar egyszeri tisztelgésként indult, néhány éve Tom Waits születésnapján léptek fel először az A38-on. A koncertnek olyan elsöprő sikere volt – mind a közönség, mind a résztvevők oldaláról –, hogy évente megismétli a csapat. 
A tagok egytől-egyig komoly tisztelői a mesternek. Ezt a produkciót az emeli ki a többi tribute band közül, hogy a résztvevők nagy része saját jogán is hasonló kvalitású dalszerző-előadó.
Ian Siegal (UK) – ének, gitárok
Ripoff Raskolnikov (A) – ének, gitárok
Kiss Tibor – ének, gitárok
Varga Livius -ének, ütős hangszerek
Varga Laca – basszusgitár
Nagy Szabolcs – zongora
Frenk – ének, dob, zongora gitár
Tracklist:
01 – Goin' out West
02 – Shore Leave
03 – Everybody's Talking at the Same Time
04 – Underground
05 – Jockey Full of Bourbon
06 – Dirt in the Ground
07 – Heartattack and Vine
08 – 16 Shells from a Thirty-Ought-Six
09 – Yesterday Is Here
10 – 2: 19
11 – Raindogs
12 – The House Where Nobody Lives
13 – Union Square
14 – Downtown Train
http://tiny.cc/u411gz
Ha kicsomagoláskor jelszót kér, írd be a Zenekucko szót a megfelelő helyre.
Találatok: 162