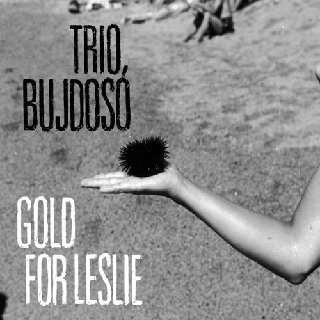 Bujdosó János kétségtelenül az egyik legkreatívabb magyar gitáros, aki számtalan formációban bukkant fel az idők során. A Vajdovich Árpád basszusgitárossal és Németh Csaba dobossal alkotott, klubkoncertek során bizonyított triójának zenéje szinte zavarba ejtő nagyvonalúsággal nyúl vissza az utóbbi évszázad zenei forrásaihoz, a Gold For Leslie-t mégis összetartja a hangulatok finom egyensúlya és a hatásokat szintetizáló kompozíciós invenció.
A zömmel saját szerzeményeket rejtő szűk órás album a rembetika-összeállítások egyik elmaradhatatlan darabjával indul: a Sambanát persze az eredeti, szmirnai kávéházi tempójánál némileg gyorsabban és dinamikusabban játsszák. Aki azonban azt hinné, hogy kizárólagos ihlető forrásuk a húszas-harmincas évek zenéje, az téved – még ha reminiszcenciaként vissza is tér mondjuk egy-egy tangóbetét. Bujdosóékat leginkább a közelmúlt inspirálja, hogy ebből a jelenben rakjanak össze egy ellenállhatatlanul vonzó albumot.
Könnyed, de forró latin és közel-keleti ritmusok, dzsesszes futamok, maximális popzenei érzékenység – igazi fúziós rockzenét hallunk egy virtuóz gitáros (aki néha mandolint ragad) és remek kísérői előadásában.
A keleti, levantei motívumok némileg visszatérnek a Tiger Of Babel című számban (s egyébként a zárótétel Guarantee Of Quasiban is), hogy az meg egy hibátlan filmzenés darabnak, a címadó számnak adja át a helyét. A kompozícióknak rendre van elég terük a kibontakozáshoz, ugyanakkor ez a nagyvonalú témakezelés feszes kamarajátékkal párosul. Bujdosó elektromosra csak ritkán cserélt akusztikus gitárjátéka úgy lesz kifejező, érzelemteli és ötletes, hogy közben egy pillanatra sem hagyja magára társait – vagy pláne a hallgatóját.
Tracklist:
01 – Salasana
02 – Highest Garden in Paradise
03 – Traveller's Diet
04 – Las Ruinas Circulares
05 – The Tiger of Babel
06 – Gold for Leslie
07 – Zuhatag Sor
08 – Guarantee of Quasi
https://zenekucko.com/wp/bujtrigold
Ha kicsomagolásnál jelszót kér, írd be a Zenekucko szót a megfelelő helyre.
Találatok: 114