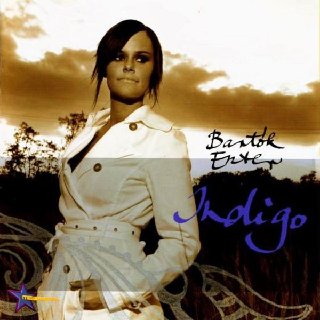 Bartók Eszter második lemeze az Indigo, amely 2007. november 15-én jelent meg. Az albumon kizárólag olyan dalok hallhatók, amelyeket maga Eszter írta. Az albumról két kislemez jelent meg, méghozzá az Üvegvilág és a Repülnek a gondok című dalokból.
A családjában mindig is fontos szerepet játszott a zene, édesapja sokat énekelt és gitározott Beatles, Creedens és Rolling Stones dalokat, édesanyja pedig a helyi népdalkör vezetője volt. A nyíregyházi főiskolai évek során születtek meg első számai. Ezekben az években alakult ki személyes hangzása, amely az őt érdeklő zenestílusokból, a soul-ból, funky-ból és r&b-ből adódott.
Tracklist:
01 – Üvegvilág
02 – Repülnek a gondok
03 – Kitakarva
04 – Szívritmuszavar
05 – Az emlékeim nélkül
06 – Hamisan igazabb
07 – Barátság mélyről
08 – Aki igazán vagy
09 – Tétova szavak
10 – Film
11 – Képzelt kicsi táj
12 – Neked adnék mindent
13 – Love Affair
14 – Let The Song In (Félhomályból)
Külön köszönet TT_1-nek a lemezért és az eredeti feltöltésért!
https://zenekucko.com/wp/bareszin
Ha kicsomagolásnál jelszót kér, írd be a Zenekucko szót a megfelelő helyre.
Találatok: 57