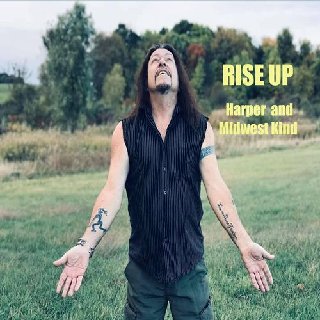 Peter D. Harper (1970. november 10.) angliában született ausztrál – amerikai blues-rock harmonikás, énekes és dalszerző. Műfajában egyedülálló módon a didzseridút is beilleszti dalaiba.
A blues iránti érdeklődését nagyapja lemezgyűjteménye keltette fel, az "öreg" főleg Howlin' Wolf-ot, Sonny Boy Williamson II-t, Muddy Waters-t, és Little Walter-t hallgatott. A kis Harper eleinte fúvószenekarokban játszott, eufóriumon és trombitán tanult zenélni. A szájharmónikára Stevie Wonder dalait megismerve talált rá, melyen autodidakta módon kezdett játszani. Tinédzser korában már klubokban lépett fel, és megismerkedett olyan zenésztársakkal, akik az amerikai és az ausztrál őslakosok (zenei) világába is elkalauzolták. Mielőtt meghódította volna Amerikát, hat lemezt adott ki Ausztráliában. Egyik turnéján a blueslegenda Muddy Waters kísérte őt harmónikán. Első szólóalbumát 1997-ben adta ki Live at the Soup Kitchen címmel. Még ebben az évben John Mayall & the Bluesbreakers, Koko Taylor, Little Feat, Buddy Guy és Robert Cray mellett turnézott az USA-ban. Később egyszerűsítette a nevét Harper-re és megalakította a Midwest Kind nevű zenekarát.
Idén jelent meg 11. albuma, amelyet bátran ajánlok azoknak is, akik még csak most ismerkednek a műfajjal.
Tracklist:
01 – Rise Up
02 – Blues I Can't Use
03 – I Still Got You
04 – Hateful
05 – Heavy Horses
06 – Talk to Me
07 – World's Insane
08 – Welcome Home
09 – Let You Go
10 – Peaceful
https://zenekucko.com/wp/harisup
Találatok: 59