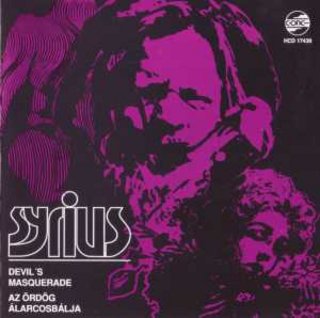 A klasszikus korszak, a tágan vett hatvanas évek messze legkomolyabb zenekara, az ötvenéves ex-underground arcok bálványa, minden jobb öreg rockzenész szerint a legjobb magyar együttes, az érinthetetlen: a csúcsok csúcsa. 1971-ben kijutottak Ausztráliába, ahol felvettek egy angol nyelvű albumot (Devil's Masquerade), aztán hazajöttek, és azon az angol lemezen kívül nem maradt utánuk semmi, csak a legenda.
Az ördög álarcosbálja a Syrius magyar együttes első nagylemeze, amely 1971-ben jelent meg, először Ausztráliában, Devil's Masquerade címmel. Az együttes egy éves ausztrál koncertturnéja után visszatért Magyarországra. Ezután felmerült a lehetőség, hogy a lemez megjelenik magyarul is, de ez különböző okok miatt végül meghiúsult. A lemez végül 1972-ben jelent meg Magyarországon az eredeti angol nyelven Az ördög álarcosbálja címmel mindösszesen 3000 példányban. Az együttesnek ebben a felállásban több hivatalos lemeze nem jelent meg. A nagylemez anyagát 1993-ban CD-n is kiadták.
Baronits Zsolt – alt- és tenorszaxofon, vokál
Orszáczky Miklós – ének, basszusgitár, bőgő, hegedű, akusztikus gitár, vokál
Pataki László – zongora, orgona
Ráduly Mihály – alt- és tenorszaxofon, fuvola, piccolo
Veszelinov András – dob, vokál
Tracklist:
01 – Concerto For A Three-Stringed Violin And Five Mugs Of Beer (Koncert háromhúros hegedűre és öt korsó sörre)
02 – Crooked Man (Hitvány ember)
03 – I've Been This Down Before (Voltam már azelőtt…)
04 – Devil's Masquerade (Az ördög álarcosbálja)
05 – Psychomania (Psychomania)
06 – Observations Of An Honest Man (Egy becsületes ember észrevételei)
07 – In The Bosom Of A Shout (Egy kiáltás méhében)
https://zenekucko.com/wp/syrazoral
Ha kicsomagolásnál jelszót kér, írd be a Zenekucko szót a megfelelő helyre.
Találatok: 140