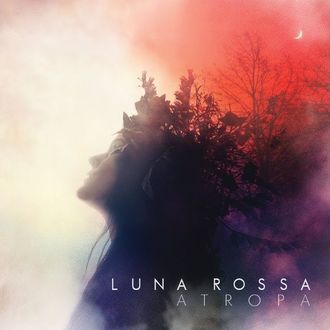 Luna Rossa büszkén jelentette be a nagy örömmel várt új "Atropa" albumának megjelenését. Ez a zenekar 3. stúdióalbuma és 12 lenyűgöző új számot tartalmaz, Anne-Marie Helder és Jonathan Edwards díjnyertes dalszerző csapatától.
Luna Rossa are proud to announce the release of their hotly-anticipated new album Atropa. This is the band's 3rd studio album, and includes 12 stunning new tracks from the Award-Winning songwriting team of Anne-Marie Helder & Jonathan Edwards.
Luna Rossa will return with more of their magical music in future! The band are very keen to record and play live again.
However, this is currently not possible due to the safety restrictions around the Covid-19 pandemic. It has been necessary to put all plans on hold for a while, until we know more.
This is affecting every area of the entertainment industry, of course, and we are extremely grateful for your kind support and understanding during these difficult times.
​We wish you all the very best of health and well-being, and promise to keep you informed about any new developments from Luna Rossa!
In the meantime, Anne-Marie & Jonathan hope that you will continue to enjoy listening to your favourite Luna Rossa songs & albums… and please do stay in touch with the band – and their fantastic family of fans around the world – via our social media pages.
Tracklist:
01. Midnight 4:20
Vocals – Sarah
Vocals, Acoustic Guitar, Piano, Strings [String Arrangement] – Anne-Marie
02. Deadly Nightshade 5:16
Acoustic Guitar, Piano, Electric Piano [Rhodes] – Jon
Baritone Guitar – Tim
Double Bass – Andy
Drums – Gavin
Harmony Vocals – Sarah
Vocals – Anne-Marie
03. Red Moon 3:04
Handclaps – Anne-Marie, Sarah
Organ – Jon
Vocals – Sarah
Vocals, Acoustic Guitar, Djembe, Strings [String Arrangement] – Anne-Marie
04. The Winner Takes It All 5:05
Double Bass – Andy
Harp [Celtic Harp], Vocals – Sarah
Piano – Jon
Vocals, Acoustic Guitar, Sounds [Wine Glass Samples] – Anne-Marie
05. Invisible 4:05
Bass Guitar – Andy
Drums – Gavin
Electric Guitar – Tim
Harp [Celtic Harp] – Sarah
Piano – Jon
Vocals, Sounds [Hang Drum Samples] – Anne-Marie
Written-By – Helder, Edwards
06. Life At Last 3:26
Dobro – Tim
Double Bass – Andy
Electric Piano [Rhodes] – Jon
Vocals, Acoustic Guitar – Anne-Marie
07. Entwined 3:12
Flute – Anne-Marie
Piano – Jon
08. Special One 3:28
Bass Guitar – Tim
Drums – Gavin
Electric Guitar, Piano, Electric Piano [Wurlitzer] – Jon
Harp [Celtic Harp] – Sarah
Vocals – Anne-Marie
09. Family Tree 3:06
Acoustic Guitar, Piano – Jon
Vocals – Anne-Marie
10. Make Me Promises 4:43
Bass Guitar – Andy
Drums – Gavin
Piano, Electric Piano [Rhodes], Synth [Moog] – Jon
Vocals, Acoustic Guitar – Anne-Marie
11. This Is Not … 5:45
Double Bass – Andy
Electric Guitar [Reverse Electric Guitar] – Tim
Harp [Celtic Harp] – Sarah
Piano – Jon
Vocals, Whistle [Penn Whistle], Twelve-String Guitar [12-string Guitar] – Anne-Marie
12. Halo Falling 3:56
Piano, Electric Piano [Rhodes], Guitar [Ebow Guitar] – Jon
Vocals – Anne-Marie
Guests:
Double Bass, Bass Guitar – Andy 'Wal' Coughlan
Drums, Percussion – Gavin John Griffiths
Electric Guitar, Dobro – Tim Hamill
Harp [Celtci Harp], Vocals – Sarah Dean
https://justpaste.it/lra018
Találatok: 82