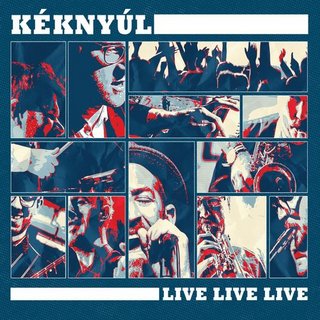 A hetvenes évek soul- és funkzenéjében gyökerező tánczenét játszó Kéknyúl 2020 karácsonyára öt év után új lemezt jelentet meg. A felvételt 2019 áprilisában egy élő koncert során rögzítették a budapesti Muzikumban, erre utal az album címe is, ami a Live Live Live nevet kapta. Négy vadonatúj dal (Wild Cat, That Dance Wake Me, Lying Low) mellett két olyan szerzemény is helyet kapott rajta (Kéknyúl – Gospell, The Qualitons – Rolling The Bones), amik ebben formában eddig nem jelentek meg.
"A többi dal korábban már megjelent CD-n, de a zenekar valódi arca a koncerteken mutatkozik meg, ezért úgy gondoltuk, érdemes lenne ezt megörökíteni, és felvétel formájában is elérhetővé tenni. Így, ha valakinek hiányzik egy jó Kéknyúl koncert élmény, annak most lehetősége nyílik ezt a számára legkönnyebben elérhető formában élvezni." – mondta Premecz Mátyás zenekarvezető.
Badics Márk – dob
Bata István – basszusgitár
Kovács Gergő – bariton szaxofon
Csókás Zsolt – gitár
Andrew Hefler – vokál
Jász Andris– szaxofon
Premecz Mátyás – Hammond orgona
Puskás Csaba – trombita
Tracklist:
01 – Put It on My Bill
02 – All Life Long
03 – Wild Cat
04 – Lying Low
05 – Guessing Game
06 – Suite (Crowded Universe, Nothing Ever Really Waits, Ashes)
07 – Wake Me
08 – Wind-Up Doll
09 – Gospel
10 – Rolling the Bones
11 – That Dance
https://zenekucko.com/wp/kekli
Ha kicsomagolásnál jelszót kér, írd be a Zenekucko szót a megfelelő helyre.
Találatok: 213