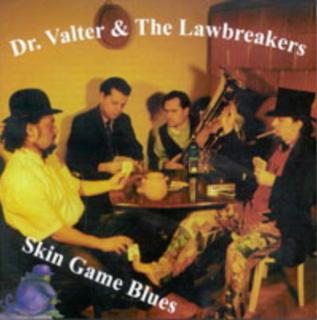 A hazai bluestörekvéseket nagyjából három fő vonulatra lehet osztani. Egyfelől ott van a Hobo által elindított blues-rock/rhythm & blues, másfelől a Palermo Boogie Gang által meghonosított klasszikus chicagói blues, harmadrészt pedig a Vas-Bocskai duó és a Dr. Valter & the Lawbreakers által fémjelzett akusztikusblues-áramlat.
Ők voltak talán az egyetlen olyan hazai formáció, amelynek repertoárján e több mint százéves műfaj minden árnyalatát meg lehetett találni: az archaikus és a városi bluest éppúgy, mint a tájjellegű válfajokat. Nem véletlen, hogy több alkalmat megért, az autentikus bluest játszó hazai és külföldi zenekarok színvonalas seregszemléjének számító Bluespatika is hozzájuk fűződött. Az 1998-as Skin Game Blues az utolsó lemezük. Széles és színes a spektruma: húszas évekbeli népszerű táncdarab (Walk Right In), tradicionális blues (I'm Gonna Cross The River Of Jordan), korai jazz-blues (After You've Gone), archaikus köntösbe bújtatott nagyvárosi blues (Hoochie-Coochie Man), ragtime (Greasy Greens) és gospel (Here I Am Oh Lord) egyaránt hallható rajta. Saját szerzeményükben, a Mountain Hopban pedig remekül keverik a moldvai népzenét a fekete hegedűs-bendzsós talpalávalóval.
Csonka Valter – ének
Gál Csaba – akusztikus gitár, ének
Oláh Andor – harmonika
Bényei Tibor – tuba
Tracklist:
01. Walk Right In
02. I'm Gonna Cross The River Of Jordan
03. Greasy Greens
04. Brother Of Mine
05. Cotton-Eyed Joe
06. After You've Gone
07. Mountain Hop
08. That's No Way To Get Along
09. Hoochie-Coochie Man
10. 5-0 Blues
11. How Much More
12. Here I Am Oh Lord
13. Write Me A Few Lines
Külön köszönet baljan-nak a lemezért és az eredeti feltöltésért!
https://zenekucko.com/valskingam
Ha kicsomagolásnál jelszót kér, írd be a Zenekucko szót a megfelelő helyre.
Találatok: 7