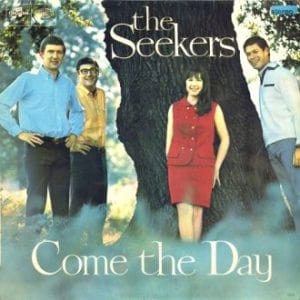 "A beatkorszak hagyott helyet a szép dallamokat szállító előadóknak is. Ilyen volt például az Ausztráliából induló és Nagy-Britanniában befutó Seekers együttes is.
Kitűnő szerzeményeik közül listát vezetett az I'll Never Find Another You (Dusty Springfield fívérének szerzeménye), vagy az orosz Volga-dalt feldolgozó The Carnival Is Over. Az együttes a hatvanas évek végén feloszlott, de a tagok később is többször felléptek együtt. Összesen 60 milliónál több lemezük fogyott. A leghíresebb dalaik közül milliónál több példányt adtak el az I'll Never Find Another You, az A World of Our Own, a Georgy Girl és a The Carnival is Over című dalaikból.
Joan Baez, Bob Dylan, Peter, Paunl and Mary nyomában indult el a négy, elsősorban hangszeres, de kitűnően vokálozó fiú, Athol Guy, Keith Potger, Bruce Woodley és Ken Ray, a szólóénekes, aki, amikor megházasodott, kilépett a csapatból, helyét a jazzes körökből érkező, gyönyörű hangú Judith Durham töltötte be. Judith szólóénekével és társainak színvonalas hangszeres kíséretével, tömör hangzásával világszerte népszerű lett.
Judith kitűnő képességei ellenére eleinte nem vágyott szólópályára. A Seekers mellett a hatvanas évek végéig kitartott, s csupán az évtized végén lépett saját útra, amikor a műfaj is válságba jutott. Neve addigra már annyira összeforrt az együttessel, hogy szólóban nem tudott ütős karriert folytatni." (Kovács Miklós)
A dalok:
A1 – Come The Day [02:17]
A2 – Island Of Dreams [02:31]
A3 – The Last Thing On My Mind [03:17]
A4 – All Over The World [02:42]
A5 – Red Rubber Ball [02:16]
A6 – Well, Well, Well [02:21]
B1. – Georgy Girl [02:24]
B2. – Yesterday [02:26]
B3. – I Wish You Could Be Here [02:19]
B4. – Turn, Turn, Turn [03:17]
B5. – Lousiana Man [02:33]
B6. – California Dreamin' [02:33]
A zenészek: Judith Durham (ének), Athol Guy (bőgő), Keith Poteger (12 húros gitár, bendzsó), Bruce Woodley (gitár, bendzsó, mandolin).
http://links.snahp.it/318seekers
Találatok: 55