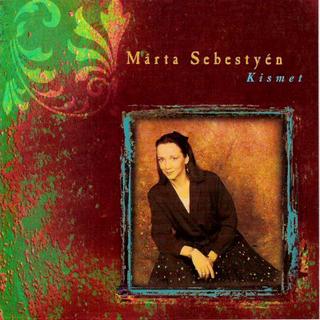 Though this is listed as a Márta Sebestyén solo album, it is more a collaboration between singer Sebestyén and multi-instrumentalist Nikola Parov, who plays just about every instrument on the CD. Both are artists with roots in Hungarian music and wide familiarity with the music of many other cultures, and both show stellar skills and inspiration on this album. To call the music fusion is correct but misleading.
To most people fusion means elements from many cultures tossed together for an effect that may be original, but not representative of any particular tradition. Kismet is something else altogether. When Márta Sebestyén croons a lullaby in Hindi, she does it to a melody that is straight from India, no matter that some of the instrumentation is native to other countries. When that lullaby shifts into a lightly jazzy instrumental, the Indian component of the music comes along for the ride, and it flavors the whole piece. The same is true of other works here, which are rich in character. This is world music fusion as an expression of culture, at the same time as it is an expression of the universality of some ideas and emotions. It takes an excellent musician to conceive of such pieces, and exceptional performers to move between such ideas without losing a sense of thematic unity. A lesser virtuoso than Parov and a lesser song interpreter than Sebestyén would have turned out a blend that was bland. Instead, this release is as successful as it is daring, which is an extraordinary achievement.
Tracklist:
01 – Devoiko Mome
02 – Sino Moi
03 – Leaving Derry Quay / Eleni
04 – Gold, Silver or Love
05 – Hindi Lullabye
06 – The Shores of Loch Brann / Hazafelé
07 – If I Were A Rose (Ha én rózsa volnék)
08 – Imam Sluzhba (The Conscript)
https://zenekucko.com/semarkis
Ha kicsomagolásnál jelszót kér, írd be a Zenekucko szót a megfelelő helyre.
Találatok: 42