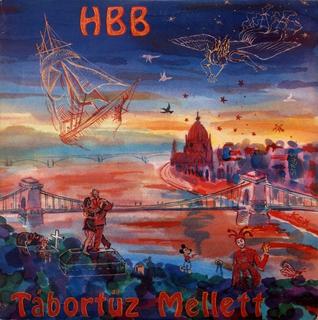 A Földes László alias Hobo vezette Hobo Blues Band "Tábortűz mellett" című lemeze eredetileg 1990 ben jelent meg, azután 2010-ben ismét kiadták a lemez újrakevert változatát dupla CD-n. Az eredeti és az új kiadás között – a jobb hangzástól eltekintve – az a különbség, hogy az új lemezen két új dal is szerepel. Az egyik a "Blues nyomában", a másik a "Temető tangó". A tizenhárom és fél perces "Blues nyomában" a magyar blues történetének egyik legjobb dala és vendégzenészként szaxofonon játszik rajta Lakatos Antal, akit a régi szép időkben, amikor még a Marczibányi téri Művelődési Házba jártam Interbrass koncertekre Lakatos Tóninak, később, Németországi letelepedése után Tony Lakatosnak hívtak. A "Temető tangó" című szám szerzője Solti János. ____________________________________________
Húszévnyi várakozás után végre teljes terjedelmében megjelent a Hobo Blues Band pályafutásának egyik legfontosabb és legjobb alkotása, a legendás "Tábortűz mellett" című dupla album. Az ország csúcs-zenészei olyan zenei köntösbe varázsolták Hobo remekbeszabott verseit, ami szinte példa nélküli az egész HBB- életműben. Igazi jutalomjáték mindannyiuk számára. Ezt a lemezt mindenkinek hallania kell, hiszen az üzenete ma épp úgy aktuális, mint megjelenésekor. A "Tábortűz mellett" jelentőségében, a HBB-életműben a "Vadászat" mellé sorolható, azonban az 1990-es megjelenést követően csak csorbított formában látott napvilágot CD-n. Az eredeti LP-k a lemezgyűjtemények legféltettebb, ma már beszerezhetetlen kincsei, az 1993-ban – érthetetlen módon – terjedelmében megcsonkított CD-k már rég nem kaphatók. A "Tábortűz mellett" olyan, ma már klasszikussá érett dalokat vonultat fel, mint az "Emigráns blues", a torokszorító "Gyáva bohóc", vagy az első hazai rap-dal, a "Temető tangó", de a "Vadászok kivonulása" is itt hallható (rímelve a Vadászat: A vadászok bevonulása című dalára) és "A látogató", amely egy modern-kori Rómeó és Júlia-történet sajátosan közép-kelet európai közegben.
Track listing
CD 1
01 – Emigráns blues – 5:20 / (Immigrant blues)
02 – A szökevények hajója – 4:39 / (Ship of deserters)
03 – Gyáva bohóc – 8:19 / (The cowardly clown)
04 – Rock 'n' Roll Doktor – 6:38 / (Rock 'n' Roll Doctor)
05 – A blues nyomában – 13:30 / ( In the footsteps of the blues)
06 – Hely a térképen – 5:46 / (Place on the map)
CD 2
01 – Dőlnek a szobrok – 3:10 / (Fold out of the sculptures)
02 – Éjszakai Budapest blues – 7:22 / (Budapest by night blues)
03 – Temető tangó – 5:35 / (Cemetery blues)
04 – A vadászok kivonulása – 8:33 / (Withdrawal of the hunters)
05 – Kelfeljancsi – 3:57 / (A little pith figure who always turn on their peg)
06 – A látogató – 7:09 / (The visitor)
07 – Szabadság angyala – 4:09 / (Angel of freedom)
08 – Tábortűz mellett – 5:43 / (Near the camp-fire)
Hobo Blues Band
Hobo – ének, vers (tej) / vocal, poetry (milk)
Póka Egon – basszusgitár, ének (sör) / electric bass, vocal (beer)
Solti János – ütősök, falkavokál (whisky) / percussions, background vocal (whisky)
Tátrai Tibor – gitárok, falkavokál (vörösbor) / guitars, background vocal (red vine)
Tóth János Rudolf – gitár, vocal (Unicum) / guitar, vocal (Unicum)
(Így szerepel a CD kísérőfüzetében!)
Vendég zenészek / Guest musicians
Horváth Kornél – ütősök / percussion
Lakatos Antal – szaxofon / saxophone
Quicksilver 2011. március 15-i bejegyzésének frissítése.
https://zenekucko.com/hobtamel
Ha kicsomagoláskor jelszót kér, írd be a Zenekucko szót a megfelelő helyre.
Találatok: 8