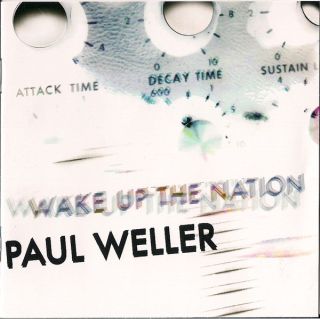 Amíg Magyarországon a középkorú zenészeknek szinte csak arra van energiájuk, hogy valahogy felkészüljenek kétévente esedékes búcsúkoncertjük megpróbáltatásaira, addig az idén 52 éves, nagyszerű egészségnek örvendő Paul Weller két-három évente új lemezt ad ki, és közben két-három naponta koncertezik.
A valóságos intézményrendszernek számító "Modfather" tényleg fáradhatatlan: mióta a dicsőséges The Jam, illetve a jóval kevésbé emlékezetes The Style Council nevű zenekara feloszlatása után, a 90-es években szólóelőadóként visszatért, egyszerűen nem bír hibázni. A 2000-es évek első évtizedében kiadott albumai, az Illumination, az As Is Now és a 22 Dreams különösen jól sikerültek, főleg az utóbbi, ami után mindenki azt gondolta, hogy innentől aztán tényleg már csak amolyan öregedős, a nyugdíj felé kacsintó rutinmunkák jöhetnek.
Hát egy nagy frászt: a Wake Up The Nation, ha lehet, még a 22 Dreamsnél is jobb; tele van két és fél perces, pörgős slágerekkel – a hallgatót néhol totális Jam-flash éri, főleg, amikor az egykori sértődött kolléga, Bruce Foxton játéka is felcsendül a lemezen. Ebből még persze nem lesz Jam-újjáalakulás, van viszont helyette egy újabb élvezetes szólóalbum, melyről jó pár dalnak egészen biztosan bérelt helye lesz a Modfather következő bestofján. Paul Weller (aki harminc éve még azzal sokkolta a punkokat, hogy a torykra szavaz, a Thatcher-évtized óta viszont már a munkáspárt mellett teszi le a voksot) egész biztosan megérdemelte azt a Godlike Genius életműdíjat az idei NME-díjkiosztón. – írta Nagy István 2012-ben a Magyar Naracsban megjelent ismertetőjében.
A számok:
1. Moonshine
2. Wake Up The Nation
3. No Tears To Cry
4. Fast Car / Slow Traffic
5. Andromeda
6. In Amsterdam
7. She Speaks
8. Find The Torch, Burn The Plans
9. Aim High
10. Trees
11. Grasp & Still Connect
12. Whatever Next
13. 7&3 Is The Strikers Name
14. Up The Dosage
15. Piece Of Dreams
16. Two Fat Ladies
https://ouo.io/SeY0TT
Találatok: 23