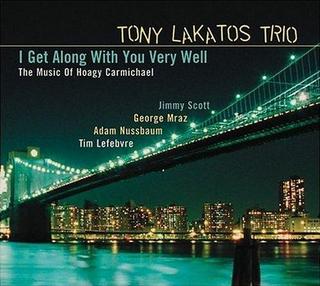 Tony Lakatos játéka "A" szaxofonozás. Nem is nagyon kell jobban minősíteni. A hangszín, a stílus, a dallamvilág, a modern, de mégis romantikus gondolatok… Tony Lakatos azt hiszem, a világ egyik legjobb szaxofonosa. George Mraz utoljára a hetvenes években járt Magyarországon, Stan Getz zenekarában. Ő a nagybőgő igazi királyainak egyike. Adam Nussbaum dobos nem telepedett rá zenésztársaira, együtt lélegzett velük és a muzsikával. Három igazi zenei nagyság volt a stúdióban, amit és ahogyan játszanak utánozhatatlan.
Tony Lakatos – saxophone
George Mraz – bass
Adam Nussbaum – drums
Tracklist:
01 – Doctor, Lawyer, Indian Chief
02 – Skylark feat. Jimmy Scott (Vocal)
03 – I Get Along With You Very Well
04 – Georgia On My Mind
05 – The Nearness Of You feat. Jimmy Scott (Vocal)
06 – Skylark
07 – April In My Heart
08 – Stardust feat. Jimmy Scott (Vocal)
09 – Little Break From Hoagy feat. Adam Nussbaum, George Mraz
10 – The Nearness Of You
11 – Heart And Soul
12 – Big Breath
13 – A Woman Like To Be Told
https://zenekucko.com/tolavewe
Ha kicsomagolásnál jelszót kér, írd be a Zenekucko szót a megfelelő helyre.
Találatok: 38