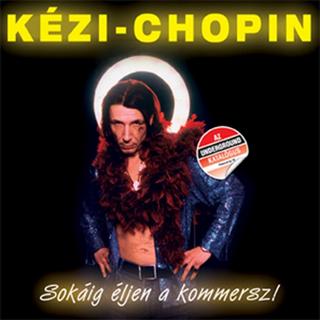 A Kézi-Chopin a nyolcvanas és kilencvenes évek magyar underground versenyistállójának az egyik legjobb zenekara volt. Igaz, hogy rock and roll, glam és underground paneljeiből dolgoztak, de mindig meg tudták emelni e motívumokat, azaz a saját képükre és hasonlatosságukra dolgozták át a rock toposzait, így aztán a Kézi-Chopin egy semmire nem emlékeztető zenés kozmoszt teremtett, nem is értjük, hogy miért nem lettek akkora sztárok, mint mondjuk a Kispál és a Borz. Ugyanis Legát szövegei is elgondolkodtatók, van annyi lírai muníciójuk, mint Lovasi popverseinek, és a Kézi-Chopin zenéje kimondottan slágeres. A magyar popkultúra egyik talánya az, hogy miért nem futotta be a zenekar azt az ívet, ami kijárt volna neki. – Kultúrpart, 2010. március 13.
Valószínű, hogy az 1984-1995 között működő Kézi-Chopin a múlt század végi magyar rocktörténelem egyik sajnálatosan kevéssé ismert epizódja marad, ha tavaly nem születik meg az a logikus, ámde cseppet sem kézenfekvő elhatározás, hogy a korszak fontosnak vélt zenekarainak "régi/új" anyagai megjelenjenek. Az ötletgazda, a 1G Records kiadó az Underground katalógusnak nevezett vállalkozás kapcsán a Kézi-Chopint is megkereste, 2009 őszén pedig – mások mellett – a boltokba került az együttes Sokáig éljen a kommersz! című válogatáslemeze, melyen az együttes eddigi két albumáról (Utolsó magyar playboy – 1991, Ígéret földje – 1993) vannak felvételek, illetve egy kiadatlan, 1995-ös demó négy dala. Az esemény kapcsán a Gödör tavaly novemberben fesztivált rendezett, amelyre a Kézi-Chopin "csupán illendőségből" kapott meghívást, hiszen utoljára 1995-ben, a Szigeten léptek föl. Tulajdonképpen a szerencsés csillagállásnak köszönhető, hogy az együttes vállalkozott egy rövid műsorra a 14 és fél évvel azelőtti felállásban (Csehy András – basszusgitár, Glatz Gábor – dob, Legát Tibor – ének, Papócsi László – billentyűsök, Tóth László – gitár), azonban a sikeren felbuzdulva úgy döntöttek, hogy amint lehetőség nyílik rá, adnak egy "igazi", "hosszú" koncertet. Nos, ennek az ideje 2010. június 22-én jött el – a Gödör Klub színpadán. Épp 15 évvel azután, hogy Kézi-Chopin utoljára boldogította a kedves közönséget. És mivel hivatalosan soha nem jelentették be a zenekar megszűnését, azt sem állíthatjuk, hogy az együttes újjáalakult. Ott folytatják, ahol abbahagyták. – dalok.hu
Csehy András – basszusgitár
Glatz Gábor – dob
Legát Tibor – ének
Papócsi László – billentyűk
Tracklist:
01 – Álom állomás
02 – Az utolsó magyar playboy
03 – Hiába menekülsz
04 – Gyere át!
05 – Kirándulás a mennyországba
06 – Amikor a húsnak hangja van
07 – Nagyon közel-kelet
08 – Sally Skeleton
09 – Sokáig éljen a kommersz!
10 – Állat az élet
11 – Azóta mások a szerepek
12 – Hippy Hippy Shake
13 – Pokoli Éden
14 – United Hungarian Boys
15 – Eljön a csend
16 – The Dinamo Brothers
17 – Rendőrök a villamoson
Külön köszönet baljan-nak a lemezért és az eredeti feltöltésért!
http://tinyurl.com/m9dftyl
Ha kicsomagoláskor jelszót kér, írd be a Zenekucko szót a megfelelő helyre.
Találatok: 7