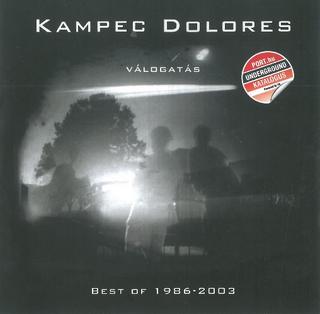 A Kampec Dolores több mint két évtizede van jelen a zenei életben, sajátos, elismerten egyéni arculatával. 6 stúdióalbuma és 1 koncertlemeze után 2009 decemberében jelent meg a Válogatás – Best of 1986 – 2003 című CD. Kenderesi Gabi (ének) "egyszerre éteri és zsigeri", ahogy egy sajtóorgánum fogalmazott – egyike a legizgalmasabb magyar vokalistáknak, akár költői szövegeit énekli, akár hangszerként használja hangját. Hajnóczy Csaba (gitár), a legendás Kontroll Csoport egyik egykori alapítója, most sem a múltra, hanem előre tekintve halad útján. Grencsó István (szaxofon, fuvola) a magyar jazz és improvizációs zene meghatározó egyéniségei közé tartozik. Vajdovich Árpád érett, precíz, virtuóz basszusjátéka és az együttessel alig egy éve muzsikáló Németh Csaba invenciózus, kifinomultan muzikális dobolása minden tekintetben figyelemre méltó ritmusszekciót alkot. A Kampec Dolores zenéjének kifinomult gyönyörűsége az ismételt hallgatások során bomlik ki, ami mindig az esszenciális zenék jellemzője. Ez a zenekar úgy nyúl vissza a gyökereihez, hogy nem feledi eközben mindazt, amivel a muzsikája az idők során gazdagodott.
Tracklist:
01 – Levitáció
02 – Kínai kép
03 – Hajam, arcom
04 – Hejhó
05 – Suhanni
06 – Tű fokán
07 – Négyen ülünk
08 – Hova, hova
09 – Narancsország
10 – A bivaly hátán
11 – Séta
12 – Jürüjorum
13 – Vízország
14 – Látomás
Külön köszönet baljan-nak a lemezért és az eredeti feltöltésért!
http://tinyurl.com/o6srghx
Ha kicsomagoláskor jelszót kér, írd be a Zenekucko szót a megfelelő helyre.
Találatok: 10