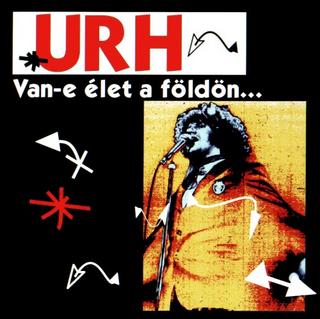 Az URH magyar underground új hullámos együttes, mely 1980-ban alakult (eredetileg Orgazmus néven), majd 1981-ben már fel is oszlott maga után hagyva egy legendát, és elindítva egy új, feltörekvő, valamint felnövő művész/zenész generációt, melynek tagjai a mai napig meghatározóak a kortárs magyar (underground) kultúrában. Az URH zenéje a punkból (egyszerű témák, gyors, letaglózó ritmusok), a rock and rollból és (bár kismértékben, de érezhetően) a jazz-ből táplálkozik. Szövegeik kábítószerfogyasztásról és mámorról, szabadságról (Pokoli Aranykor), a rendszer (Vigyetek el, Van-e élet a földön) és a hazai zeneipar (Ki akarja nyírni a doktor) és közszereplők (Kék fény) bírálatáról szóltak javarészt, rendkívül sok iróniaval és humorral fűszerezve, ugyanakkor dalaik nagyon költőiek és elvontak is voltak, ezáltal rengeteg kétértelműséget is tartalmaztak. 1981-ben a Kassák klubban tartották búcsúfellépésüket, majd utána néhányan az Európa Kiadó és a Kontroll Csoport együttesekben folytatták a zenélést. 1985-ben két utolsó koncertet adtak a Közgazdasági Egyetem könyvtárának udvarán, majd egy igazi búcsúkoncert volt 1990. november 10-én az Olimpiai Csarnokban, Budapesten Csak egy parti címmel. Ennek a fellépésnak az anyaga hallható ezen a duplalemezes kiadványon.
Menyhárt Jenő – gitár, ének
Müller Péter Iván (Sziámi) – ének
Somoskői Lajos – ének, gitár
Kiss László – basszus, ének
Salamon András – dob
Tracklist:
CD1:
01 – Kék fény
02 – Van-e élet a földön…
03 – Temesd el
04 – Rock'n fuckin'
05 – Márti
06 – Szavazz rám
07 – Kétezer
08 – Kísérleti állat
09 – Nagy Testvér
CD2:
01 – Öt kontinens
02 – Jól van jól
03 – Bye bye
04 – Ki akarja nyírni a doktor
05 – Vigyetek el
06 – Pokoli aranykor
07 – Észak Jemen
08 – Ismeretlen katona
https://tinyurl.com/y9gkgb8n
Ha kicsomagolásnál jelszót kér, írd be a Zenekucko szót a megfelelő helyre.
Találatok: 4