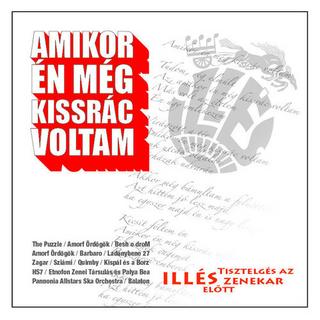 Az Illés zenekar negyvenedik születésnapjára jelent meg az Amikor én még kissrác voltam című album, melyen tizenhárom Illés-dalt dolgoztak fel, értelmeztek újra, formáltak képükre aktív hazai előadók. Szinte mind a tizenhárom telitalálat, remek ötlet maga a válogatás; és az is, hogy nem popcsapatokra bízták a feladatot, hanem az underground klubok és fesztiválok fellépői és a világzene hazai legjobbjai szerepelnek a korongon. Talán jó döntés az is, hogy a nem a legismertebb dalok kerültek a válogatásra. Mert hiába keressük rajta a Kéglidalt vagy Sárikát, és nem szerepel a darabok közt az Újra itt van vagy a Még fáj minden csók. Ez így jó, ahogy van.
Tracklist:
01 – Pannonia Allstars Ska Orchestra – Ne gondold
02 – Kispál és a Borz – Elvonult a vihar
03 – Amorf Ördögök – Légy jó kicsit hozzám
04 – Besh o droM – Amikor én még kissrác voltam
05 – Sziámi – Az utcán
06 – The Puzzle – Miért hagytuk, hogy így legyen
07 – Etnofon Zenei Társulás és Palya Bea – Szőke Anni balladája
08 – Balaton – Lehetett volna / Esténként, emlékszem / Keresem a szót
09 – Quimby – A lány és a csavargó
10 – Heaven Street Seven – Eljöttél
11 – Ladánybene 27 – A szó veszélyes fegyver
12 – Barbaro – Nem érdekel, amit mondsz
13 – Žagar – Approximáció
Külön köszönet baljan-nak a lemezért és az eredeti feltöltésért!
https://zenekucko.com/amikoren
Ha kicsomagolásnál jelszót kér, írd be a Zenekucko szót a megfelelő helyre.
Találatok: 12