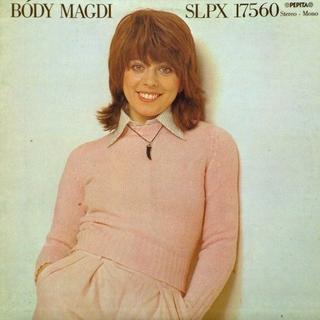 Bódy Magdi (Budapest, 1953. július 15. –) magyar énekes, zeneszerző, producer. Tanulmányait a Bartók Béla Zeneművészeti Szakiskolában végezte el 1972-1976 között, ahol Vukán György tanítványa volt. Ezután a Köllő Miklós Pantomim Stúdió diákja volt. 1965-1969 között a Magyar Rádió és Televízió gyermekkórusában szerepelt. Ekkor Japánban, USA-ban és Oroszországban turnézott. 1969-1972 között a Korong együttes énekese volt, amelynek tagjai voltak Miklós Tibor, Csuha Lajos, Miklóska Lajos, Dancsák Gyula és Hőnig Rezső is. 1972. január 18-án fiatal rockzenészek, oratórikus formában megtartották a Jézus Krisztus szupersztár magyarországi ősbemutatóját. A zenei alapokat a Korong együttes biztosította; a tagok a énekelték a főbb szólamokat is. A magyar rocktörténeti esemény egyik résztvevője, alakítója volt Bódy Magdi. Ő énekelte Mária Magdolna szólámát. 1972-1975 között a Generál együttessel lépett fel. 1975-1980 között szabadúszó énekes volt saját zenekarával. A táncdalfesztiválok korai és későbbi korszakában is indult: 1972-ben a Hűvös szél, 1977-ben, a Metronóm '77 versenyen a Rázd meg magad, 1981-ben pedig a Sakkfigurák című dallal. Ebben az évben a KFT (együttes)sel koncertezett, közös albumot terveztek, de a hanglemezgyár csak a KFT-ben látott fantáziát, Bódy Magdiban nem. Ezért az énekesnő elhagyta az országot. 1981-1999 között kanadai és amerikai dzsesszklubokban, rádiókban, tévékben énekelt. 1982-ben az ottawai konzervatórium tanára, énekiskolát alapított és tanított. 2000-ben az újjáalakult Generál együttes énekesnője lett.
Tracklist:
01 – Mondd meg mama
02 – Kelj fel!
03 – Tőled
04 – Rák rock
05 – Élni egy szerelemért
06 – Boldog napok
07 – Késtél
08 – Az 1958-as boogie-woogie klubban
09 – Kéz
10 – Roki roki rock and roll
11 – Kárpótlás a könnyekért
https://zenekucko.com/bomag78
Ha kicsomagolásnál jelszót kér, írd be a Zenekucko szót a megfelelő helyre.
Találatok: 5