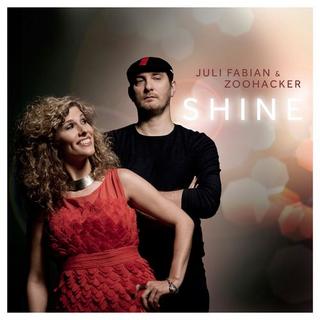 Fábián Juli és Palásti Kovács Zoltán alias Zoohacker 2011. óta dolgoztak együtt – a szerzőpáros dalai folyamatosan jelen voltak a hazai rádiók slágerlistáin, illetve hét fős élő nagyzenekarrá kiegészülve a legrangosabb klubok és fesztiválok rendszeres fellépői voltak. Bemutatkozó nagylemezükön 12 dal hallható, a rengeteg ismert sláger mellett (Like a child, Sizzlin', SoulCords, Shine) a lemez természetesen újdonságokat is tartogat, például egy magyar népdalfeldolgozást, a Vásárhely-t. A páros élő kísérőzenekarának állandó tagjai – Udvarhelyi Gábor (gitár), Bata István (basszusgitár) és Gábor Andor (ütőhangszerek) – mellett vendégművészek is felbukkannak, például Greg Note (trombita), Furák Péter (zongora), a Talamba Ütőegyüttes, Simkó-Várnagy Mihály (cselló) és Gombai Tamás (hegedű). A Vásárhely kivételével az összes dal Juli és Zoohacker saját szerzeménye: szövegeit Juli írta, saját élményeiből, érzelmeiből merítve. A dalok világa, tematikája nagyon gazdag és változatos – a könnyedebb, női témák mellett mesélnek a rossz kapcsolatok béklyójáról, a valódi út megtalálásának nehézségéről, a belső ragyogásról és még sok másról. A két szerző az összes dalt saját gyerekének érzi, így rengeteg energiát fektettek mind a tartalmi megérlelésükbe, mind abba a modern, mégis a klasszikus műfajokat is megidéző stílus- és hangzásvilágba, ami az egész albumon végigvonul.
Tracklist:
01 – Girly
02 – Sizzlin'
03 – Don't Even Wanna Teach Me
04 – Liberation
05 – Like a Child
06 – SoulCords
07 – Lalalley
08 – Fresh and Fool
09 – Shine
10 – Nothing To Lose, My Dear
11 – Vásárhely
12 – World Peace
https://tinyurl.com/yddlt89a
Ha kicsomagoláskor jelszót kér, írd be a Zenekucko szót a megfelelő helyre.
Találatok: 26