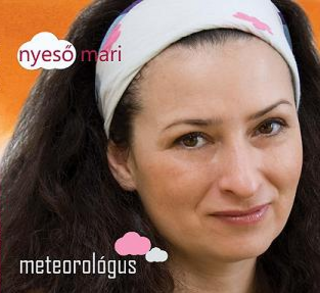 Az elbűvölően zseniális Nyeső Mari-t méltatlanul kevesen ismerik. A tizenegy éves kora óta színpadon lévő dalszerző-gitáros-énekesnő egyedülállóan humoros stílusát eddig három lemez, a Nyeső (1992), Az Én Kis Bigbendem (2000) és a Meteorológus (2009) őrzi.
A Meteorológus egyszerre igazi one-man show és közösségi munka, hiszen Mari a legtöbb hangszert (gitár, basszusgitár, mandolin, népi hegedű) egyedül játszotta fel, csak Jeszenszky György (Nigun, Tóth Viktor Tercett, Ágoston Quartet) segített be a dobok mögött, a számtalan vokál és kórus betétnél pedig a – néha kissé amatőr, de elragadóan lelkes – barátok énekelnek. A lemez tematikája a magyar nyelvben dupla jelentést hordozó időt járja körbe, amely egyaránt vonatkozik konkrétan az időjárásra (Meteorológus) és az eltelt évekre (Tátátá, Boszorkány), de némely dalban Mari könnyedén egybe is fonja őket (Eső, Eső (30 Év Múlva), Eső (70 Év Múlva)). Teszi mindezt gyermeki látásmóddal, őszinte rácsodálkozással, sok életörömmel és életszeretettel, öniróniával még az olyan dalokban is, mint a gyermekkor elveszítéséről és a visszavonhatatlan felnőtté válásról szóló mélabús Tátátá, vagy a szintén merengő, mesevilágba vágyódó Katicabogár.
Tracklist:
01. Meteorológus
02. Tátátá (unplugged)
03. Béla, a tánctanár (gramofonos verzió)
04. Eső
05. Királyfi
06. Biciklis dal
07. Boszorkány
08. Legyél Királylány!
09. Eső (30 év múlva)
10. Katicabogár
11. Manuela
12. Eső (70 év múlva)
13. Tátátá
https://zenekucko.com/nyemet
Ha kicsomagolásnál jelszót kér, írd be a Zenekucko szót a megfelelő helyre.
Találatok: 5