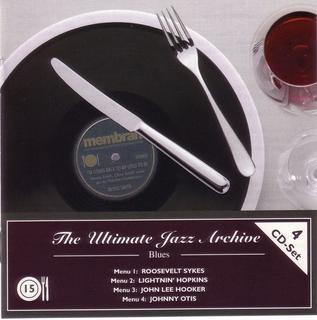 A The Ultimate Jazz Archive egy öszzesen 168 (!) lemezből álló – tehát igazán átfogónak tekinthető – válogatás, melynek tizenötödik része a blues zene meghatározó előadóinak világába kalauzol.  A mai ajánlat: Roosevelt Sykes, Lightnin' Hopkins, John Lee Hooker, Johnny Otis
Set 15 – CD 1: Roosevelt Sykes
A zongora-blues alapjában véve kétszólamú: a kérlelhetetlenül gördülő basszusszólam, és az erre játszott jobbkezes melodikus futamok. A lassú blues-sémák gyorsabb változatát nevezték el boogie-woogie-nak, először 1924-ben, Chicagóban. Ennek nagymestere volt Roosevelt Sykes (1906-1983), másnéven The Honeydripper. Szinte védjegye volt a játék közben is a szájában lógó szivar. A korszak meghatározó mestere volt. 1929-ben New Yorkba költözött és leszerződött az OKeh Recordshoz. Már első felvétele a 44 Blues nagy siker lett és később a blues egyik sztenterdjévé vált. Később sok zenésztársához hasonlóan Chicagóba "keveredett". A II. világháború után a műfaj vesztett népszerűségéből, ő pedig New Orleas-ba költözött. A hatvanas évektől kezdve kisebb kiadókkal állt szerződésben, 1987. július 17-én bekövetkezett haláláig. 1999-ben a Blues Halhatatlanjai közé választották.
Tracklist:
01 – Jivin' The Jive (1944)
02 – Mellow Queen (1944)
03 – Strange Woman (1944)
04 – This Tavern Boogie (1945)
05 – Anytime Is The Right Time (1945)
06 – The Honeydripper (1945)
07 – Sate Bait (1945)
08 – Peepin' Tom (1945)
09 – Sunny Road (1946)
10 – Living In A Different World (1946)
11 – Flames Of Jive (1946)
12 – Homesick Blues (1947)
13 – I'm Her Honeydripper (1947)
14 – Bobby Sox Blues (1947)
15 – Kilroy's In Town (1947)
16 – Walkin' And Drinkin' (1947)
17 – High Is A Georgia Pine (1947)
18 – Until The Clowns Come Home (1947)
19 – Southern Blues (1948)
20 – My Baby Is Gone (1949)
21 – Rock It (1950)
22 – Drivin' Wheel (1950)
Set 15 – CD 2: Lightnin' Hopkins
"Lightnin'" Hopkins – eredeti nevén Sam Hopkins – (1912-1982) amerikai country blues gitáros, zeneszerző, szövegíró, a blues történetének kiemelkedő egyénisége. Zenei karrierje az 1920-as években kezdődött, és halála napjáig 1982-ig tartott. Hopkins hosszú pályafutása alatt a blueszene hatalmas változásokon, fejlődésen ment át, de ő csak szemlélője volt ezeknek a "forradalmi" eseményeknek, mert mindvégig hű maradt eredeti stílusához. Az egyetlen dolog amit át vett a modern kortól, és zenéjében alkalmazta, az az elektromos gitár volt. Hopkins szinte légies könnyedséggel volt képes egy-egy rövid zenei strófára, pillanatok alatt rögtönözve egy egész szerzeményt összehozni. Úgyszintén egy-egy rímelő verssor elég volt számára egy dalszöveget azonnal rögtönözni, akár élő előadások közben is. Ebben a műfajban senki sem volt képes lekörözni. Számos lemeztársasággal dolgozott. 1960-as Mojo Hand című dala a klasszikus bluesok közé tartozik. Az 1970-es évek végéig tartó pályafutása nagy részében Houstonban lépett fel, éjszakai klubokban. Pályafutása alatt több lemezt készített, mint bármelyik másik blueszenész. Felvételeinek számát 800-1000-re becsülik. Számos hangfelvételén egyedül játszik. Sajátos többujjas stílusa (fingerstyle) lehetővé tette, hogy a szólógitár, a ritmusgitár és a basszusgitár szerepét is egy gitár töltse be. A gitár ütögetésével az ütősők hatását is keltette időnként. Rekedtes hangja erős, dinamikus, egyben érzelmekben gazdag volt. Dalai ugyan a standard 12-bar blues sémára épültek, azonban nagy belső változatosságot mutatnak. Dalainak témái jellemzően a déli szegregáció, a balszerencse és a szerelem voltak. Számos dalát humoros bemondásokkal vezette be. Az erős dohányos Hopkins rákban halt meg Houstonban 1982-ben.
Tracklist:
01 – Feel So Bad (1946)
02 – Katie May (1946)
03 – Blues (That Mean Old Twister) (1946)
04 – I Can't Stay Here In Your Town (1946)
05 – Can't Do Like You Used To (1946)
06 – Short Haired Woman (1947)
07 – West Coast Blues (1946)
08 – Fast Mail Rambler (1947)
09 – Thinkin' And Worryin' (1947)
10 – Can't Get That Woman Out Of My Mind (1947)
11 – Picture On The Wall (1947)
12 – You're Not Going To Worry My Life Anymore (1947)
13 – You're Gonna Miss Me (1948)
14 – Have To Let You Go (1948)
15 – Someday Baby (1948)
16 – Come Back Baby (1948)
17 – My California (1948)
18 – Lightnin's Boogie (1948)
Set 15- CD 3: John Lee Hooker
John Lee Hooker (1917-2001) amerikai bluesénekes, gitáros és dalszövegíró. Zenéjének ritmusa kötetlen volt, hasonlított a Delta blues előadóira. Éneke is inkább a beszédhez állt közelebb, semmint dallamok kiénekléséhez. Ez a laza, kötetlen stílus a Chicagóból érkező elektromos blues zenekarok megjelenésével vesztett népszerűségéből, bár amikor nem szólóban játszott, Hooker megpróbálta a kettőt ötvözni. 1943-ban Detroitba költözött, ahol gyári munkás volt. Itt élt 1969-ig, a város keleti részén, a feketék szórakozóhelyei közelében. Első lemezfelvételeit 1948-ban készítette, ezek közül a "Boogie Chillen" sláger lett. Több mint egymillió darabot adtak el belőle. Ez megteremtette számára a lehetőséget, hogy olyan, ma már klasszikus dalokat vegyen fel, mint a "Crawling King Snake", az "In the Mood", a "Rock House Boogie" és a "Shake Holler Run". Szólókarriert kezdett, az 1960-as évek elején a blues és a folk rajongói között is népszerűvé vált, így ő mutathatta be a közönségnek a fiatal Bob Dylant. Jellegzetes, mély tónusú énekhangja mellett gitárkísérete iskolát teremtett. Gitárstílusa egyszerűnek tűnik, ám lüktető basszusmeneten alapuló, egyetlen gitáron játszott kétszólamú kísérete technikai bravúr. Még az 1990-es évek elején is készített felvételeket, így duettet énekelt Van Morrison Gloria című dalában, illetve Bonnie Raitt-tel. Hooker több, mint 100 albumot vett fel, utolsó éveiben San Franciscó-ban élt. 2001-ben, röviddel európai turnéja előtt betegedett meg, és nem sokkal utána elhunyt. Bekerült a Blues Hall of Fame-be (1980), majd a Rock and Roll Hall of Fame-be is (1991). Két dalát, a "Boogie Chillen"-t és a "Boom Boom"-t beválasztották a Rock and Roll Hall of Fame: "500 dal, amely megváltoztatta a Rock and Roll-t" nevezetű listájába. A "Boogie Chillen" egyike lett Az Évszázad Dalainak.
Tracklist:
01 – Wednesday Evening Blues
02 – My First Wife Left Me
03 – Boogie Chillen
04 – Sally Mae
05 – Henry's Swing Club
06 – Hobo Blues
07 – Crawling King Snake
08 – Alberta
09 – Do My Baby Think Of Me
10 – Three Long Years Today
11 – Strike Blues
12 – Grinder Man
13 – Walkin' This Highway
14 – Four Women In My Life
15 – I Need Lovin'
16 – Find Me A Woman
17 – I'm In The Mood
Set 15 – CD 4: Johnny Otis
Johnny Otis, eredeti nevén Ioannis Alexandres Veliotes (1921-2012) görög származású, fehér családban, de fekete környezetben felnőtt személyiség, aki zeneszerzőként, dobosként, producerként, zenekarvezetőként, rádiós DJ-ként és tévés műsorvezetőként, valamint tehetségkutatóként is beírta magát az amerikai szórakoztatóipar történelmébe. A zenei világ a rhythm & blues keresztapjaként tartja számon. Legismertebb dala a Willie And The Hand Jive című 1958-as sláger, valamint ő szerezte többek között a Gladys Knight and the Pips Every Beat of My Heart című népszerű dalát is, és még számos előadóval dolgozott. Egészen idős koráig folyamatosan játszott különböző zenekarok élén, valamint templomi prédikátorként is működött és gospel együttest vezetett. A The Johnny Otis Show című rádióműsora évtizedeken keresztül, 2006 augusztusáig volt hallható az Egyesült Államokban. Sokak szerint Johnny Otis volt az, aki elfogadtatta a fehérekkel a feketebőrűek zenéjét. A Rock an Roll és a Blues halhatatlanjai közé is beválasztották 1999-ben.
Tracklist:
01 – I Gotta Guy (1949)
02 – Mean Ole Gal (1949)
03 – Thursday Night Blues (1949)
04 – Good Ole Blues (1949)
05 – Boogie Guitar (Three Guitars) (1949)
06 – Ain't Nothin' Shakin' (1949)
07 – Hangover Blues (1949)
08 – Get Together Blues (1949)
09 – I'm Not Falling In Love With You (1949)
10 – If It's So Baby (1949)
11 – Our Romance Is Gone (1949)
12 – If I Didn't Love You So (1949)
13 – Rain In My Eyes (1949)
14 – Double Crossing Blues (1949)
15 – Head Hunter (1949)
16 – Going To See My Baby (1949)
17 – The Little Red Hen (1949)
18 – New Orleans Shuffle (1949)
19 – The Turkey Hop – Part I (1950)
20 – The Turkey Hop – Part II (1950)
21 – Blues Nocturne (1950)
22 – Cry Baby (1950)
23 – Lover's Lane Boogie (1950)
24 – I Found Out My Troubles (1950)
Külön köszönet baljan-nak e különleges válogatás megosztásáért és az eredeti feltöltésért!
http://tiny.cc/nejqtz
Találatok: 5