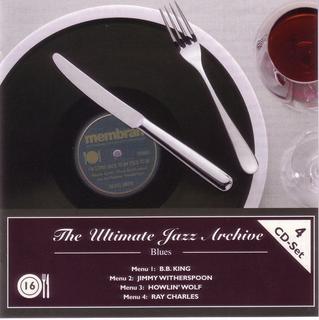 A The Ultimate Jazz Archive egy öszzesen 168 (!) lemezből álló – tehát igazán átfogónak tekinthető – válogatás, melynek tizehatodik része a blues zene meghatározó előadóinak világába kalauzol. A mai ajánlat: B.B. King, Jimmy Witherspoon, Howlin' Wolf, Ray Charles
Set 16 – CD 1: B. B. King
B. B. King, eredeti nevén Riley B. King (1925-2015), minden idők egyik leghíresebb bluesgitárosa, aki még 89 éves korában is aktív előadó volt. Egy ültetvényen született a Mississippi állambeli Berclairben. Soha nem járt tanárhoz, tudását teljes egészében autodidakta módon sajátította el. 20 éves korában Memphisbe ment unokatestvéréhez, ahol kezdetben utcazenélésből próbált megélni, később a helyi WDIA rádióállomás lemezlovasaként dolgozott. Ekkor kapta a "The Beale Street Blues Boy" becenevet, mely később "Blues Boy King"-re, végül csak B. B. Kingre rövidült. Az évek során folyamatosan fejlődött technikája, és pár év alatt a bluesvilág egyik legjellegzetesebb gitártechnikáját tudhatta magáénak. Saját bevallása szerint az akkordjáték sosem volt az erőssége, de tempóérzéke, ujjvibratoja, és az egész dallamjátéka egyedülálló. 1968-ban Johnny Winterrel és Mike Bloomfielddel koncertezett nagy sikerrel, aminek következtében a The Rolling Stones 1969-ben meghívta amerikai turnéjára. Ugyanebben az évben játszotta fel Rick Darnell és Roy Hawkins The Thrill Is Gone című dalát, mellyel már nem csak a blues, de a poplisták élére is felkerült. A dal sikereinek köszönhetően King egyre inkább a kommersz popzene felé fordult. Egyre keresettebb előadó lett, dalai megjelentek TV reklámokban, TV showkban, ugyanakkor egyre kevesebb lemezt adott ki. Munkássága elismeréseként 1984-ben beválasztották a Blues Foundation Hall Of Fame-be, 1987-ben pedig a Rock And Roll Hall Of Fame-be. Minden idők legaktívabb zenésze volt, még 70 éves korán túl is évi 200 fellépése volt. Szenvedélyes szerencsejátékos lett, vegetáriánus volt, nem ivott alkoholt és nem dohányzott. Álmában érte a halál Las Vegasban, 2015. május 14-én.
Tracklist:
01 – Miss Martha King
02 – When You Baby Packs Up and Goes
03 – Got The Blues
04 – Take A Swing With Me
05 – Mistreated Woman
06 – B.B. Boogie
07 – The Other Night Blues
08 – Walkin' And Cryin'
09 – My Baby Is Gone
10 – B.B. Blues
11 – Fine Looking Woman
12 – She's Dynamite
13 – She's A Mean Woman
14 – Hard Working Woman
15 – That Ain't The Way To Do It
16 – Three O'Clock Blues
17 – She Don't Move Me No More
18 – Shake It Up And Go
19 – My Own Fault Darlin'
20 – I Gotta Find My Baby
Set 16 – CD 2: Jimmy Witherspoon
Jimmy Witherspoon (1920-1997) amerikai jump blues énekes. A rock, a jazz és a rhythm & blues egymást keresztező területén tevékenykedett, ám mély és meleg hangja minden idők egyik legjobb bluesénekesévé tette. 1941 és 1943 között a kereskedelmi flottánál dolgozott, kalkuttai tartózkodása alatt egyszercsak a Teddy Weatherford vezette banda előtt találta magát, amint bluest énekel. 1944-ben a kaliforniai Vallejóban, Jay McShann együttesében Walter Brown helyére került, és a következő négy évben vele turnézott. 1949-ben a "Tain't Nobody's Business If I Do" című száma nagy sláger lett, 34 hétig állt a Billboard listáján. Az ez időben készített további felvételek közül igen pompásak a Jimmy "Maxwell Street" Davis által vezetett bandával készített víg hangvéteki west coast rhythm & blues nóták, amelyeket Who's Been Jivin' You címmel gyűjtöttek össze. Witherspoon rhythm & blues énekesi népszerűsége az ötvenes években halványult, de vendégszerepelt Jon Hendricks Evolution Of The Blues című lemezén. 1961ben a Down Beat kritikusi pollján az "új sztár" kategóriában első lett. 1974-ben a "Love Is A Five Letter Word" című száma sláger lett, számos rajongója sajnálta, hogy mellőzi a bluest. Witherspoont különböző korok generációi ismerik, nevét gyakran idézik, mint aki nagy hatással volt a hatvanas évek beat boomjára. Nem kétséges, hogy művészete fennmarad.
Tracklist:
01 – I'm Just A Lady's Man
02 – Ther Ain't Nothing Better
03 – Love Me Baby
04 – Love And Friendship
05 – Good Jumping aka Jump Children
06 – I'm Just A Country Boy
07 – Slow Your Speed
08 – Geneva Blues aka Evel Woman
09 – I'm Just Wandering (Part 1)
10 – I'm Just Wandering (Part 2)
11 – Baby, Baby
12 – Sweet Lovin' Baby
13 – The Doctor Knows His Business aka Doctor Blues
14 – Rain, Rain, Rain
15 – Thelma Lee Blues
Set 16- CD 3: Howlin' Wolf
Howlin' Wolf, eredetileg Chester Arthur Burnett (1910-1976) amerikai blues énekes, gitáros és harmonikás. Fiatalon megszerette a blues-t, és az 1930-as években Floyd Jones, Johnny Shines, Honeyboy Edwards, Sonny Boy Williamson II, Robert Johnson, Robert Jr. Lockwood, Willie Brown, Son House és Willie Johnson voltak a zenésztársai. 1948-ban zenekart alapított, majd Sam Phillips producer 1951-ben felfedezte őt. 1959-ben megjelent az első albuma, a Moanin in the Moonlight, amely összeállítás az addigi kislemezeiből. 1962-ben jelent meg a nagy hatású blues-albuma, a Howlin 'Wolf. Egészségi állapota az 1960-as-'70-es években fokozatosan romlott. Több szívinfarktuson esett át, 1970-ben pedig egy autóbalesetben súlyosan megsérült a veséje. Hinesban (Illionis állam) halt meg 1976. január 10-én. Chicagoban temették el. A sírkövét – amelyre a művészneve és a családi neve, valamint egy gitár van vésve – állítólag egykori tanítványa, Eric Clapton vásárolta.
Tracklist:
01 – Moanin' At Midnight
02 – How Many More Years
03 – Riding In The Moonlight
04 – Dog Me Around
05 – Morning At Midnight
06 – Keep What You Got
07 – Riding In The Moonlight
08 – House Rockin' Boogie
09 – Crying At Daybreak
10 – Passing My Blues
11 – My Baby Stole Off
12 – I Want Your Picture
13 – The Wolf Is At Your Door (Howlin' For My Baby)
14 – California Blues
15 – California Blues
16 – Look-A-Here
17 – Howlin' Wolf Boogie
18 – Smile At Me
19 – Getting Old And Grey
20 – Mr.Highway Man
21 – My Baby Walked Off
22 – C.V. Wine Blues
23 – My Troubles And Me
24 – Chocolate Drop
25 – Highway Man
Set 16 – CD 4: Ray Charles
Ray Charles, teljes nevén Ray Charles Robinson (1930-2004) afroamerikai zongorista, énekes. A jellemzően amerikai zenei stílusok gyakorlatilag mindegyikében (dzsessz, soul, rock and roll, gospel, blues, rhythm and blues, pop, country, funk) maradandót alkotott. Zenei érdeklődése akkor kezdődött, amikor meglátta Mr. Wiley Pittet boogie-woogie-t játszani egy álló húrozatú zongorán, a saját tulajdonú Red Wing nevű kávézójában. Ötéves korában kezdte elveszíteni látását. Hétéves korára zöld hályog miatt teljesen megvakult. A floridai St. Augustine-ban a vakok és siketek iskolájában sajátította el a muzsikálást a Braille-írás segítségével. Első lemeze 1949-ben jelent meg a Swing Time Records jóvoltából. Az 1950-es években vált népszerűvé, miután az Atlantic Recordshoz került. Sikere haláláig töretlen volt a slágerlistákon. 1977-ben Georgia állam bocsánatot kért tőle azért, hogy a 60-as években a polgárjogi harcokban való részvételéért a területéről kitiltotta. A Georgia on my mind című száma ekkor lett az állam hivatalos dala. 2004-ben a Rolling Stone Magazine a 10. helyre rangsorolta a "Minden idők 100 legnagyobb művésze" toplistán, és 2008 novemberében pedig másodikként lett rangsorolva a "Minden idők 100 legnagyobb énekese" között.
Tracklist:
01 – Roll With Me Baby
02 – The Sun's Gonna Shine Again
03 – Jumpin' In The Morning
04 – The Midnight Hour
05 – It Should Have Been Me
06 – Heartbreaker
07 – Sinner's Prayer
08 – Mess Around
09 – Losing Hand
10 – Funny But I Still Love You
11 – Feelin' Sad
12 – I Wonder Who
13 – Don't You Know
14 – Ray's Blues
15 – Nobody Cares
16 – Mr. Charles Blues
17 – Black Jack
18 – I Got A Woman
19 – Come Back Baby
20 – Greenbacks
Külön köszönet baljan-nak e különleges válogatás megosztásáért és az eredeti feltöltésért!
http://tiny.cc/rfjqtz
Találatok: 2