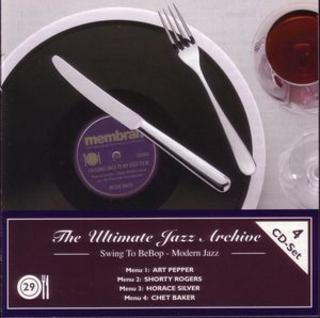 A The Ultimate Jazz Archive egy öszzesen 168 (!) lemezből álló – tehát igazán átfogónak tekinthető – válogatás, melynek huszonkilencedik része a swingtől a bebopig vezet el minket a modern jazz világában. A mai ajánlat: Art Pepper, Shorty Rogers, Horace Silver, Chet Baker
Set 29 – CD 2: Art Pepper
Arthur Edward Pepper, Jr. (1925-1982) amerikai altszaxofonos és klarinétos. Kilencesztendősen klarinétosnak indult, négy évvel később tért át az altszaxofonra. Tinédzserévei közepén a Los Angeles-i Central Avenue csupa feketéből álló bandáinak hallgatásával alakította ki saját jazzstílusát. 1943-ban Stan Kenton zenekarába került, ám hamarosan be kellett rukkolnia a hadseregbe, háborús szolgálatát nagyrészt Angliában teljesítette. 1946-ban ismét csatlakozott Kentonhoz, akinél 1951-ig maradt. Ugyanekkor készített felvételeket Shorty Rogersszel, az "Over The Rainbow" egy csodálatra méltó változatát készítette el, amelyet azután is sok éven át játszott. Később szerepelt Rogers Cool And Crazy címe albumán, majd Los Angeles környékén szabadúszó zenészként élt, sok lemezfelvételen vett részt, néha a saját neve alatt is. Karrierjét az ötvenes és a hatvanas években drogfüggősége határozta meg, amely néhányszor börtönbüntetésbe is torkollott. A hetvenes évek közepén már a nemzetközi jazzélet jelentős alakja volt. Élete utolsó éveiben jelentős mennyiségű felvételt készített, többek között a Winter Moon címe albumot vonósokkal, ami Pepper régi vágya volt.
Tracklist:
01 – The Count On Rush Street (1951)
02 – Pooch McGooch (1951)
03 – Brown Gold (1952)
04 – Holiday Flight (1952)
05 – Surf Ride (1952)
06 – Tickle Toe (1952)
07 – Chilli Pepper (1952)
08 – Suzy The Poodle (1952)
09 – Straight Life (1954)
10 – Cinnamon (1954)
11 – Thyme Time (1954)
12 – The Way You Look Tonight (1954)
13 – Nutmeg (1954)
14 – Art's Oregano (1954)
15 – Over The Rainbow (1951)
16 – Popo (1951)
17 – Didi (1951)
18 – Sam And The Lady (1951)
19 – Apropos (1951)
20 – Art Pepper (1950)
Set 29 – CD 2: Shorty Rogers
Milton "Shorty" Rogers (1924-1994) amerikai trombitás, az ún. West Coast jazz egyik legfőbb alakja. A New Yorkban végzett tanulmányok után Rogers Will Bradley zenekaraiban trombitált, ahol is először találkozott Shelly Manne-nel és Red Norvóval. A katonai szolgálat megtörte karrierjét, ám 1945-ben Woody Hermanhoz csatlakozott, és zenekari tagsága idején számos topkisugárzású big band hangszerelést készített. Az ötvenes években többnyire Kaliforniában dolgozott, keményen swingelő hangszereléseket írt Kentonnnak. Filmekben szerepelt, részben színészként, részben a filmek soundtrackjén játszott, közismert a The Man With The Golden Arm című 1955-ös filmje. A swingkorszak tradíciói néhány fiatal veteránjának felhasználása olyan zene játszására, amely a bebop újabb zenei kincseit mutatta be, mindkét forma legjobbját, tökéletes összeolvadását eredményezte. A klisék használata elenyésző, vagy nem is létezett, a legpompásabb big band hangzások szólaltak meg. Míg Rogers west coast jazzéből hiányzik a keleti parti agresszivitása, mindig elegánsan swingel. Rogers folyamatosan kereste az új és a szokatlan hangzásokat és stílusokat, a 12 fokú komponálás korai jazz-kísérletezője volt. A hatvanas, a hetvenes és a nyolcvanas években folyamatosan játszott és írt, intenzíven turnézott és olyan fiatal muzsikusokkal dolgozott együtt, akik az Egyesült Államokban vagy Nagy-Britanniában éltek, ugyanakkor régi barátai közül Bud Shank és Vic Lewis számos alkalommal vele tartott. Legtöbbször szárnykürtön játszott, annak melegebb, tömörebb soundja jobban megfelelt expresszív játékstílusának.
Tracklist:
01 – Moten Swing (1955)
02 – Isn't It Romantic? (1955)
03 – Four Mothers (1951)
04 – Dickie's Dream (1955)
05 – Over The Rainbow (1951)
06 – The Lady In Red (1955)
07 – Just A Few (1954)
08 – My Heart Stood Still (1955)
09 – Blues Way Up There (1955)
10 – Blues Way Down There (1955)
11 – Easy (1955)
12 – Not Really The Blues (1955)
13 – Baklava Bridge (1955)
14 – Clickin' With Clax (1956)
15 – Twelfth Street Rag (1955)
Set 29 – CD 3: Horace Silver
Horace Ward Martin Tavares Silver (1928-2014) amerikai jazz-zongorista, zeneszerző, hangszerelő, a hard bop ritmikus dzsesszstílus egyik úttörője. Elsõ albumát a hard bop kialakulásának mérföldköveként tartják számon. Legismertebb munkái közé tartozott a Zöld-foki szigetek népzenéje ihlette Song For My Father címû szám, valamint a gospeles jellegzetességeket viselõ The Preacher. Art Blakey zenekarával rögzített Horace Silver and the Jazz Messengers az ötvenes évek egyik legmeghatározóbb lemeze lett. Munkái egy sor Miles Davis-albumon is hallhatóak, köztük az 1954-es Walkin címû korongon. "Nem csak termékeny, de páratlan komponista is volt. Még egy standard 12-ütemû blues is varázslatossá vált a kezei között" – mesélte a zenészrõl Phil Pastras, Silver 2006-ban megjelent Let's Get to the Nitty Gritty címû könyvének szerkesztõje. Silver zongorán és szaxofonon játszott, és mielőtt megalapította volna saját kiadóját Silveto Records néven, három évtizeden át a Blue Note Records adta ki lemezeit.
Tracklist:
01 – Quicksilver (1952)
02 – Horace-cope (1952)
03 – Thou swell (1952)
04 – Safari (1952)
05 – Ecaroh (1952)
06 – Prelude To A Kiss (1952)
07 – Yeah (1952)
08 – I Remember You (1952)
09 – Knowledge Box (1952)
10 – Day In, Day Out (1952)
11 – Opus De Funk (1952)
12 – How About You (1952)
13 – Buhaina (1952)
14 – Silverware (1952)
Set 29 – CD 4: Chet Baker
Chesney Henry "Chet" Baker, Jr. (1929-1988) amerikai jazz trombitás, szárnykürtös és énekes. Egyike a II. világháború utáni évek első igazán lírai trombitásainak. Törékeny soundja szinte megtestesítője a nyugati parti muzsikusok úgynevezett ,cool" iskolájának, akik az ötvenes években az Egyesült Államok jazzéletét uralták. Gerry Mulligan zongora nélküli kvartettjében jelentős nemzetközi sikert aratott, és 1953 végén, egy újabb rövid Parkerrel való együttjátszás után megalakította saját együttesét, amely rendkívül népszerű lett. Nem tudott ellenállni a drogoknak, és életének hátralevő része egyetlen küzdelem volt ezzel a függőséggel. Időnként zenéje is óhatatlanul félrecsúszott. A nyolcvanas években a nemzetközi jazzélet számtalan eseményének résztvevője volt, és számos kirándulást tett a popvilágba, például szerepelt Elvis Costello "Shipbuilding"-jében. Késői korszakának legjobb darabjai valószínűleg a dán Steeplechase labelen jelentek meg, ahol Doug Raineyvel és Niels-Henning Orsted Pedersennel játszolt együtt. Ebben az időben tiszta, fiús vonásai már eltűntek a rengeteg barázda és redő alatt -és amikor egyszer trombitástársának, Jack Sheldonnak azt mondta, hogy a ráncok a sok nevetéstől vannak, az így válaszolt: Ennyire semmi sem vicces! Művészetének rövid csúcspontján Baker soundjának ezüstözött ötvösmunkája – bár mind tonális, mind emocionális szempontból kissé korlátozott területen mozgott – sok pompás, összetéveszthetlenül egyedi felvételt hozott létre. A Let's Get Lost (1989) című film rajzolja meg ennek a pályáját soha be nem teljesítő, változatos életet élő zenésznek utolsó éveit, aki kiesett vagy kiugrott egy amszterdami hotelablakból.
Tracklist:
01 – Freeway (1952)
02 – My Old Flame (1954)
03 – Five Brothers (1953)
04 – My Funny Valentine (1953)
05 – Come Out Wherever You Are (1953)
06 – What's New (1953)
07 – Half Nelson (1953)
08 – All The Things You Are (1953)
09 – Bea's Flat (1953)
10 – Moon Love (1953)
11 – Happy Little Sunbeam (1953)
12 – Pro Defunctus (1953)
13 – Moonlight Becomes You (1953)
14 – Bockhanal (1953)
Külön köszönet baljan-nak e különleges válogatás megosztásáért és az eredeti feltöltésért!
http://tinyurl.com/ztd576v
Találatok: 2