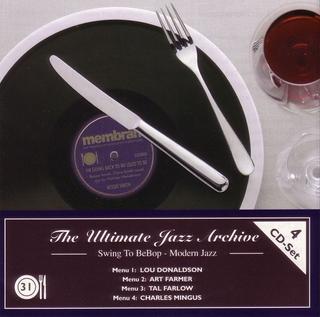 A The Ultimate Jazz Archive egy öszzesen 168 (!) lemezből álló – tehát igazán átfogónak tekinthető – válogatás, melynek harmincegyedik része a swingtől a bebopig vezet el minket a modern jazz világában. A mai menü: Lou Donaldson, Art Farmer, Tal Farlow, Charles Mingus
Set 31 – CD 2: Lou Donaldson
Lou Donaldson (1926) amerikai jazz altszaxofonos. A Blue Note legremekebb altszaxofonosa volt; megkockáztatom, a 60-as és 70-es évek legremekebb altszaxofonosa. Már az 50-es évek elején felfigyelt rá a Blue Note két tulajdonosa, gyorsan szerződtették, és Sweet Poppa Lou egyre csak ontotta az albumokat. Ráadásul nem is feltétlenül a hard bop műfajában, hanem egy sajátos zsánerben, amit ha nem is ő talált ki, de ő tett híressé. Ez a soul jazz, ami az elején még kicsit zsíros, ragadós bluesalapú jazz volt, de a 60-as évek közepétől már padlógázas, hamisítatlan soul alapú jazz (vagy jazz alapú soul?) lett. A műfaj koronázatlan uralkodója pedig Lou Donaldson. Aki olyan nagyságokat nevelt ki zenekarában, mint Dr. Lonnie Smith, Bernard Purdie, Idris Muhammad és Johnny 'Hammond' Smith. Lou Donaldson a soul jazz alfája és omegája, legnagyobb alakja, aki kisebb-nagyobb megszakításokkal lassan negyven éve tolja ugyanazt, és ezért nem lehet őt eléggé szeretni.
Tracklist:
01 – Roccus (1952)
02 – Lou's Blues (1952)
03 – Cheek To Cheek (1952)
04 – The Things We Did Last Summer (1952)
05 – Sweet Juice (1952)
06 – Down Home (1952)
07 – The Best Things In Life Are Free (1952)
08 – If I Love Again (1952)
09 – Caracas (1954)
10 – The Stroller (1954)
11 – Moe's Bluff (1954)
12 – After You've Gone (1954)
13 – Blues (1954)
14 – Split Kick (1954)
Set 31 – CD 2: Art Farmer
Arthur Stewart "Art" Farmer (1928-1999) amerikai jazz trombitás és szárnykürtös. Ikertestvéréhez, a bőgős Addison Farmerhez hasonlóan korán kezdett zenélni. A negyvenes évek közepén Kaliforniában trombitált. Az ötvenes évek közepétől az ötvenes évek végéig New York-ban élt, dolgozott és olyan zenészekkel készített felvételeket, mint Gryce, Jones, Horace Silver, Gerry Mulligan és George Russell. Benny Golsonnal együtt a Jazztet társvezetője volt, majd később Jim Hall-lel vezettek egy kvartettet. A hatvanas években Farmer egyedül kezdett turnézni, klubokban és fesztiválokon játszott szerte a világban, s ezt a hetvenes évekig folytatta. 1976-ban Art Pepperrel elkészítette az On The Road-ot. A nyolcvanas években alkalmilag Clifford Jordannal dolgozott, elkészítették a Mirage, You Make Me Smile cíű lemezt, majd a nagyra tartott Blame It On My Youth-0t, és néhány albumon ismét együtt dolgozott Golsonnal. Európában, ahol néhány esztendeig élt, rendkívül népszerű lett lírai játéka. A hatvanas években szárnykürtre váltott, s ekkortól Farmer soundja és stílusa nagyon jó1 illett a balladákhoz, amelyeket meleg, néha gyászos hangulatban, a melódiát átalakító képességgel, végtelen invencióval adott elő.
Tracklist:
01 – Mau Mau (1953)
02 – Work Of Art (1953)
03 – The Little Bandmaster (1953)
04 – Up In Quincy's Room (1953)
05 – Wildwood (1954)
06 – Evening In Paris (1954)
07 – Elephant Walk (1954)
08 – Tiajuana (1954)
09 – When Your Lover Has Gone (1956)
Set 31 – CD 3: Tal Farlow
Talmage Holt Farlow (192-1998) amerikai jazz gitáros. Becenevét (Octopus – Polip) rendkívül nagy kezeiről kapta, amellyel szinte csápokként fogta körül hangszerét. Minden idők egyik legnagyobb dzesszgitárosának tekintik. Korának leggyorsabb kezű jazz-gitárosaként a szupertechnikával párosuló "drive"-ot fő-tantárgyként oktathatta tanítányainak, többek között John Scofield-nak is.
Tracklist:
01 – Strike Up The Band (1954)
02 – Skylark (1952)
03 – Have You Met Miss Jones? (1954)
04 – Tenderly (1952)
05 – And She Remembers Me (1954)
06 – My Old Flame (1954)
07 – Cherokee (1954)
08 – Autumn In New York (1954)
09 – Tal's Blues (1954)
10 – I Like To Recognize The Tune (1954)
11 – There Will Never Be Another You (1955)
12 – Just One Of Those Things (1955)
13 – Tenderly (1955)
14 – It's You Or No One (1955)
Set 31 – CD 4: Charles Mingus
Charles Mingus Jr. (1922-1979) amerikai jazz nagybőgős. Sohasem ismerhette meg a valakihez tartozás érzésének fényűzését. A vegyes származására (brit, kínai, svéd és afro-amerikai nagyszülők) utaló reakciók a harag erős érzését és az üldöztetés érzetét váltották ki belőle. Ez az elidegenedés, saját mély érzékenységével és sorsának dramatizálására való hajlamával párosulva, a heroikus nyugtalanság és ragyogás művészi karrierje elegendő fűtőanyagot adtak kivételesen briliáns művészi életútjához. Lloyd Reese-nél tanult zeneszerzést, és Red Callender ajánlására a New York Philhamonic bőgősétől, Herman Rheimschagentől vett leckéket. Virtuóz bőgőtechnikát fejlesztett ki, a nagybőgő fogólapját a zongora billentyűzetéhez hasonlóan kezdte használni. Első profi bőgősszerződéseit a New Orleans-i jazz két nagyjától, Kid Orytól és Barney Bigardtól kapta, majd 1943-től 1945-ig a Louis Armstrong Orchestrában dolgozott, 1947-ben Lionel Hamptonnal bőgőzött. Virtuozitásának első jelentős, országos elismerését 1950-ben kapta, amikor a Red Norvo Trio tagja volt. Ezenkívül generációjának olyan jelentős úttörőivel dolgozott együtt az ötvenes években, mint Charlie Parker, Miles Davis, Thelonious Monk, Bud Powell, Sonny Stitt, Stan Getz, Lee Konitz, Dizzy Gillespie, Quincy Jones és Teddy Charles. 1953-ban rövid időre csatlakozott Duke Ellington zenekarához, ám művészileg sokkal többet profitált azzal a példaképével készített albumból, amelyet Money Jungle címmel Max Roach társaságában 1962-ben rögzítettek. Mingus a fekete bőrű menedzsment és a művészek vezette lemezmárkák egyik úttörője volt, 1953-ban megalapította a Debut lemezmárkát, majd 1964-ben a rövid életű Charles Mingus labelt. A hatvanas évek közepén anyagi és pszichológiai problémái kezdték megviselni, amint azt Thomas Reichman 1968-as Mingus című filmjében láthatjuk, hallhatjuk. Ebben a periódusban intenzíven turnézott, egy olyan együttest mutatott be, amely valódi ensemble-játékot produkált. Turnéit gyógyíthatatlan betegsége folytán fokozatosan kialakuló paralízise ellenére folytatta, és új felvételeket is készített. "Revelations" című darabját 1978-ban a New York-i Filharmonikusok Gunther Schuller vezényletével mutatták be, aki azután 1989-ben az Epitaph-ot is új életre keltette. Még szintén 1978-ban Mingust Jimmy Carter fogadta a Fehér Házban, és egy all star koncertet tartottak a tiszteletére. 56 éves korában Mexikóban érte utol a halál, amelynek hírére sok zenész tisztelgett emléke előtt koncertekkel.
Tracklist:
01 – What Is This Thing Called Love (1954)
02 – Spur Of The Moment (1954)
03 – Thrice Upon A Theme (1954)
04 – Four Hands (1954)
05 – Minor Intrusions (1954)
Külön köszönet baljan-nak e különleges válogatás megosztásáért és az eredeti feltöltésért!
http://tinyurl.com/j7ewom7
Találatok: 3