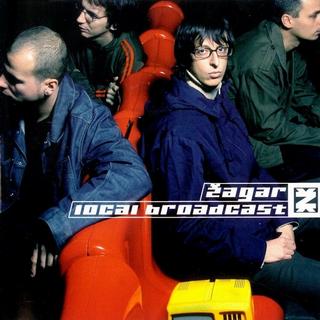 Az együttes karrierje 2001-ben kezdődött, amikor a Yonderboi Quintett három tagja (Zságer Balázs, Kovács Andor és DJ Bootsie) Lázár Tiborral kiegészülve a Yonderboi-on kívül is elkezdett zenélni. Ekkor még Pulzus néven léptek fel. 2002 nyarán már Zagar néven zenélnek, itthon és külföldi fesztiválokon. Ekkor készült el az első lemezük, amin a vonósnégyesek mellett Ligeti György énekes is közreműködött. Bemutatkozó lemezük, a Local Broadcast 2002-ben jelent meg, az UCMG/Ugar Kiadónál, illetve Ausztriában 2003-ban a Universal gondozásában. Ezen az albumon hallható Blindfight szám bekerült a CSI: A helyszínelők című sorozatba.
Tracklist:
01 – Parachute To Eternity
02 – Bitter Jollity
03 – Bokanovski Method
04 – Fata Morgana
05 – Ready For The Revolution
06 – Mistery Of Cinema
07 – Bossa Astoria
08 – Astronaut From Star City
09 – Cosmic Disaster
10 – Breath In / Breath Out
11 – While You Sleep
12 – Dripstones
13 – Those Seventies
14 – Taste The Snow
15 – Blindflight
16 – Mavu (bonus track)
https://tinyurl.com/yc7jb9wt
Ha kicsomagoláskor jelszót kér, írd be a Zenekucko szót a megfelelő helyre.
Találatok: 6