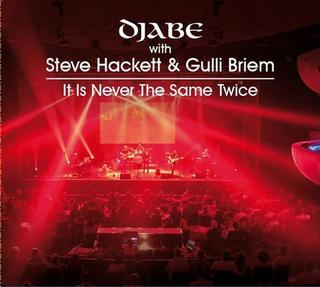 A Genesis gitárosának és a jazz-world fusion műfaj elsőszámú magyarországi képviselőjének, a Djabe zenekarnak egy éven belül a harmadik közös albuma jelent meg. A Djabe új koncert albumát Steve Hackettel a Genesis gitárosával és Gulli Briemmel a Mezzoforte dobosával készítette. 2017 júniusában a formáció Magyarországon, Szlovákiában, Ausztriában és Csehországban turnézott. A CD anyagát a turné záró állomásán Miskolcon rögzítették.  A koncerteken Djabe, Steve Hackett, Genesis és Gulli Briem kompozíciók hangzottak el. A remek hangulatú koncerteken a zenészeknek ismét sikerült elvarázsolniuk a közönséget.
500 darabos limitált kiadás!
Steve Hackett – gitár, ének
Gulli Briem – dob, ütőhangszerek
Barabás Tamás – basszusgitár, vokál
Égerházi Attila – gitár, ütőhangszerek, vokál
Koós-Hutás Áron – trombita, szárnykürt
Nagy János – billentyűs hangszerek
Tracklist:
01 – Lava Lamp
02 – The Steppes
03 – Pain Forest
04 – In That Quiet Earth
05 – Awakening City
06 – Last Train To Istambul
07 – 4000
08 – Fly On A Windshield
09 – Please Don't Touch
10 – Miskolc Jam
11 – Extra Dimension
12 – Clouds Dance
Köszönet thoms01-nek (Naftamusic), az eredeti feltöltésért!
https://tinyurl.com/yb5k8t59
Ha kicsomagoláskor jelszót kér, írd be a Zenekucko szót a megfelelő helyre.
Találatok: 6