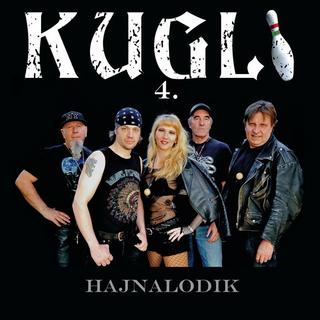 Hajnalodik címmel jelent meg a Kugli zenekar negyedik albuma. Az anyag érdekessége, hogy az alapokat a banda egyszerre játszotta fel, így átüt rajta az élő zenélés hangulata. Az új Kugli albumon a saját szerzemények mellett szerepel néhány feldolgozás is. Így például a Hegykirály, mely Edvard Grieg A hegyi király barlangjában című művének rockba oltása; az Animals által világhírűvé tett A Felkelő Nap Háza népdalnak egy teljesen újszerű feldolgozása, Gönczy Gábor műfordítása alapján; vagy Wass Albert Záróvers című versének Mr Basary által megzenésített változata, mely mára már a magyar rockbandák tucatjai által játszott nemzeti rockhimnusszá vált. A Hajnalodik album nyolc olyan új dalt tartalmaz, melyek még nem szerepeltek korábbi Kugli CD-ken, illetve egy hosszabb bónusz blokkot, melyben féltucat Kugli klasszikus hallható 2016-os új felvételen, a jelenlegi felállás által újra feljátszva.
Gönczy Gábor – dob
Igaz Tibor – gitár
Vrana Tamás – basszusgitár
Garai Máté – ének
Pásztor Brigitta – ének, billentyűk
Tracklist:
01 – Három szikla
02 – Hegykirály
03 – Lúzer vagyok
04 – Záróvers
05 – Nézz az égre fel!
06 – A felkelő nap háza
07 – Hozzál sört!
08 – Hajnalodik
09 – Mindhalálig Rock and Roll (2016)
10 – Frédi bácsi (2016)
11 – Visszatérés (2016)
12 – Végzet asszonya (2016)
13 – SoS (2016)
14 – Számmal jelzett ember (2016)
https://zenekucko.com/ku4haj
Ha kicsomagolásnál jelszót kér, írd be a Zenekucko szót a megfelelő helyre.
Találatok: 45