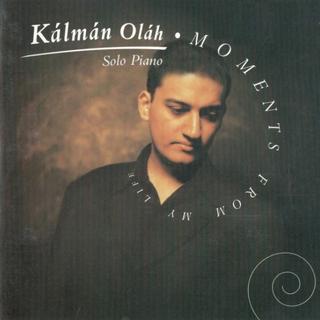 Oláh Kálmán élvonalbeli, nemzetközileg is ismert és elismert jazz-zongorista és zeneszerző. Felsorolni is nehéz lenne, ki mindenkivel dolgozott már együtt mind improvizatőr, mind kortárs komolyzenei komponista minőségében. E sorok szűkössége miatt tekintsünk is el ettől a névsortól, elég, ha annyit tudunk: a jazzvilág krémjében Oláh Kálmán igen előkelő helyet foglal el, és nem csak az európai színtéren. A kiváló jazz-zongorista már több alkalommal igazolta, hogy van átjárás a klasszikus zene mesterművei és a jazz között. Bach vagy Bartók muzsikája Oláh Kálmán előadásában mindig felfedezés, olyan rétegeit, színeit tárja fel egy-egy kompozíciónak, melyeket korábban nem vettünk észre. Liszt különleges harmóniavilága és improvizációban gyökerező zeneszerzői stílusa pedig felfedezések egész sorára ad alkalmat. Oláh Kálmán zongoristaként és zeneszerzőként egyaránt a műfajokon átívelő sokszínűségben és a többszólamúságban hisz, a szimfonikus hangszínekben, a kamarazene jellegű, egyenrangú szólamokban. Gyakran ötvözi a bartóki népdalfeldolgozásokban megtalált zenei nyelvezetet a jazz improvizációs hagyományaival. A modern jazz mellett nemcsak improvizációiban, hanem kompozícióiban is régóta izgatja a klasszikus zene és a jazz összekapcsolhatósága.
Tracklist:
01 – Meditation No.1 (K. Oláh) (On a theme of Debussy's String Quartet Op. 10)
02 – Dry Dreams (K. Oláh)
03 – Lyric Song (K. Oláh)
04 – Sentimental Voices (K. Oláh)
05 – I hear a Rhapsody (Fragos-Baker)
06 – Lush Life (Billy Stronhorn)
07 – Meditation No.2 (K. Oláh) (On the theme of Gershwin's Piano Concerto)
08 – The Peacocks (Jimmy Rowles)
Külön köszönet baljan-nak a lemezért, és az eredeti feltöltésért!
http://tinyurl.com/hkfob79
Találatok: 7