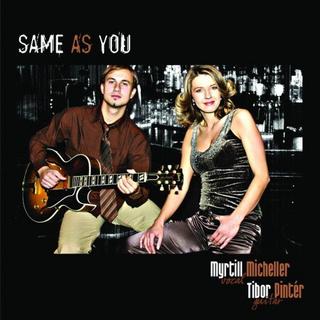 Micheller Myrtill (1972) neve több mint egy évtizede ismerős a hazai zenei életben. Diplomás jazz-ének művész és tanár lévén számos formációban hallhattuk már hangját. A Meseautó című film zenéjének feléneklése szintén az ő nevéhez kötődik. 2006-ban két nemzetközi versenyről is díjjal tért haza. A Németországban megrendezett Voice and Guitar nemzetközi ének-gitár duó versenyen 55 versenyző közül a legjobb 8 között díjazták Pintér Tibor gitárossal. Ennek folyományaként megjelentette Same as You című lemezét (2006), melynek ritka érdekessége, hogy Myrtill énekhangja mellett mindössze egy gitár hangzik fel zenei kíséretként. A repertoárt különleges zenei csemegék teszik színessé, s így a visszafogott hangszerelés ellenére sem marad hiányérzetünk. A lemez 2007-ben jelölve lett a MAHASZ által kiadott Fonogram díjra az év hazai jazz albuma kategóriában.
Micheller Myrtill – ének
Pintér Tibor – gitár
Tracklist:
01 – Shall We Dance?
02 – Over The Rainbow
03 – Shoop Shoop Song
04 – La Belle Dame Sans Regret
05 – Same As You
06 – I've Got Just About Everything
07 – I'm Gonna Wash That Man Right Outta My Hair
08 – Tico Tico
09 – Honey Pie
10 – Grandma's Hand
11 – Be Bop A Lula
12 – Bye Bye Blackbird
Külön köszönet baljan-nak a lemezért és az eredeti feltöltésért!
http://tinyurl.com/ju3ezmt
Találatok: 5