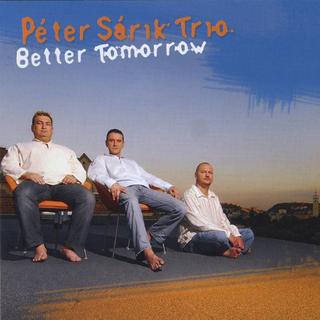 A Sárik Péter Trió 2007-ben alakult. Egyéves megalakulásuk és közös munkájuk eredménye a lemez, amely a Better Tomorrow címet viseli. Pozitív, energikus, új gondolatokat ébresztő muzsika, amely nem az elmúló dolgok boncolgatását tartja fő feladatnak, hanem előre mutató gondolatisággal kíván hatni a hallgatókra. A daloknál ritmizációs és dallami variációk széles tárházával találkozunk, amelyek nemcsak a vájt fülű hallgatókat bűvölik el. Dallamossága és világos zenei nyelvezete folytán ugyanis az igényes zenekedvelők széles köréhez tud és kíván szólni.
Sárik Péter – zongora
Frey György – basszusgitár
Berdisz Tamás – dob
Tracklist:
01 – A New Day's Morning
02 – Believe It Or Not
03 – Turkey
04 – Soul
05 – Better Times Are Coming
06 – El Bailador
07 – What Wwill Be The End Of It?
08 – I'll Catch You
09 – I'm Looking Forward To You
10 – Don Camill
Külön köszönet baljan-nak a lemezért és az eredeti feltöltésért!
http://tinyurl.com/jsytcwu
Találatok: 6