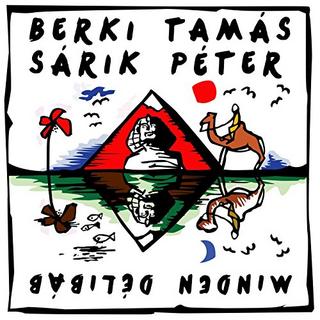 A hazai jazz élet két nehézsúlyú egyénisége, Berki Tamás és Sárik Péter évek óta zenél együtt különböző formációikban. Duóban 2012 óta lépnek színpadra. Fellépéseik igazi közönségbarát jazz koncertek, teli humorral, örömmel, játékkal és energiával. A Minden délibáb című album koncertfelvétel, 2014-ben 3 hónap alatt, különböző helyszíneken hangzottak el a dalok. 7 Berki szerzemény mellett 4 standard található a lemezen. Figyelem: egy magyar jazz-ikon megújulásának lehetünk fültanúi, aki már nem huszonéves (bocsánat!). Kiemelném, ahogy oda-vissza vált a szöveges és a scat-éneklés között, lazán, természetesen – azt csak kevesen tudják! A stílus változatlan, de a motíváció, a frissesség kétségtelen. Ráadásul ehhez kiváló partner Sárik Péter; akár kísér, akár szólózik – elsőrangú az összes billentyűn. A duóhoz meghívott vendégként a fiatalabb generáció kiemelkedő tehetsége Gyémánt Bálint gitáros csatlakozik, aki három dalban teszi le névjegyét.
Berki Tamás – ének
Sárik Péter – zongora, billentyűs hangszerek
Gyémánt Bálint – gitár (7, 10, 11)
Tracklist:
01 – Búcsú blues
02 – Én az egó
03 – A Bika
04 – My Funny Valentine
05 – So Danco Samba
06 – Minden délibáb
07 – Kötelező blues
08 – Várj
09 – The Days of Wine and Roses
10 – Love for Sale
11 – Legyen egy dal, ami mindig a végén van
https://zenekucko.com/betasapemide
Ha kicsomagoláskor jelszót kér, írd be a Zenekucko szót a megfelelő helyre.
Találatok: 8