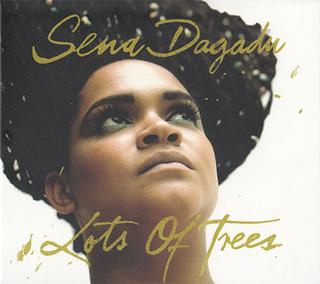 Közel tíz évvel a First One után jelent meg új szólóalbuma a ghánai származású Sena Dagadu-nak, akit a nagyközönség az Irie Maffiaénekesnőjeként ismerhetett meg. A sokszínű, érett 13 számos anyag a Lots Of Trees címet viseli.
A második album 2008 óta készült, de néhány dal gyökere még ennél is régebbre nyúlik vissza. Sena pedig ghánai zenei gyökereihez nyúlt vissza, amelyek áthatják ezt a "sokágú" – soulos-funkos, reggae-s, hiphopos, dzsesszes, sőt, rockos dalt egyaránt magában foglaló – lemezt. A főként az Irie Maffia zenészeivel felvett Lots Of Trees-en szerepel két dal is, amelyet teljes egészében Sena írt, két dal zenei alapját az orosz származású angol producer, DJ Vadim szolgáltatta, egy-egy dalban pedig közreműködik a renegát ghánai hiphop-duó, a Fokn Bois két tagja (M3NSA és Wanlov The Kubolor), illetve a nigériai énekesnő, Nneka.
Tracklist:
01 – Pressure
02 – Grit My Teeth
03 – Extra Large
04 – Buckets – Full Of Love
05 – Every Blessed Thing
06 – Do You Feel Me Now
07 – Speak To Me Darlin
08 – Roaming Earth
09 – Pass It On
10 – Accra City People
11 – Heavy Boots
12 – Dubadu
13 – Morning Love
Köszönet thoms01-nek (Naftamusic), az eredeti feltöltésért!
http://tinyurl.com/gmnm2yp
Ha kicsomagoláskor jelszót kér, írd be a Zenekucko szót a megfelelő helyre.
Találatok: 2