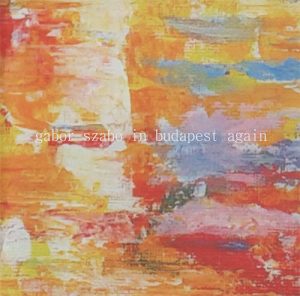 Szabó Gábor budapesti felvételeinek gyűjteménye 1978-81-ből.
A Hilton Szállóban hazai művészek, többek között Bontovics Kati, Babos Gyula, Másik János és Lerch István közremködésével adott koncert dalai, valamint a TV stúdiójában utolsó alkalommal rögzített From a Dream először kerülnek a zenehallgató közönség elé.  A kiadó In Budapest című, 1974-es felvételeket tartalmazó lemeze és a jelen CD együttesen felölelik Szabó Gábor valamennyi 70-80-as évekbeli hazai felvételét.
Babos Gyula – gitár
Bontovics Kati – ének
Dandó Péter – basszusgitár
Dés László – tenorszaxofon
Garai Attila – zongora
Lerch István – billentyűk
Kőszegi Imre – dob, ütősök
Másik János – Fender piano
Sipos Endre – bass guitar
Solti János – drums, percussion
Szabó Gábor – guitar
Tracklist:
Tracks 1-7 recorded live in January1978, Hotel Hilton, Budapest
01 – Concorde (Nightflight) (Ritchie Rome, Szabó Gábor)
02 – Magic Mystic Faces (Szabó Gábor, Sylvia St. James)
03 – Django Part 1 (John Lewis)
04 – Django Part 2 (John Lewis)
05 – Killing Me Softly (Charles Fox, Norman Gimbel)
06 – The Last Song (Szabó Gábor)
07 – The Biz (Bobby Lyle)
Track 8 recorded in August 1981, studio of Hungarian Television
08 – From a Dream (Neil Larsen)
Köszönet thoms01-nek (Naftamusic), az eredeti feltöltésért!
https://zenekucko.com/szgabudag
Ha kicsomagoláskor jelszót kér, írd be a Zenekucko szót a megfelelő helyre.
Találatok: 4