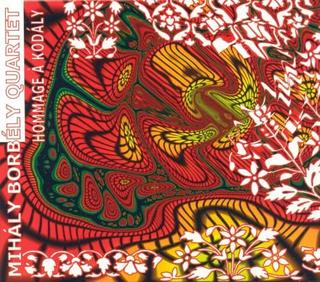 Borbély Mihály zenei tanulmányait a Bartók Béla Zeneművészeti Szakközépiskolában és a Liszt Ferenc Zeneművészeti Főiskolán folytatta klasszikus klarinét, illetve jazz szaxofon szakon. Pályafutása során eredeti hangszerei (klarinét, altszaxofon) mellett különleges fúvós hangszerek megszólaltatására is specializálódott (például tárogató, népi furulyák, kaval, dvojnice, fujara, okarina, bombard, zurna), továbbá szoprán- és tenorszaxofonon is játszik. A Vujicsics együttes alapító tagja, emellett a nép- és világzene, a jazz és a kortárszene területén egyaránt tevékenykedett, különböző formációk tagjaként vagy szólistaként. Koncertezik és felvételeket készít az általa vezetett Borbély Műhely és a Quartet B elnevezésű zenekarokkal, valamint a zongorista Binder Károllyal duóban is.
Ez az album azért kivételes, mert ugyanazok a zenészek játsszák Kodály huszadik századi klasszikus kamarazenéjét, mint Borbély Mihály jazz darabjait. A koncert programja nagy sikert aratott Magyarországon, Párizsban és Rómában egyaránt.
Tracklist:
01 – The music begins
02 – Marosszék
03 – Evening by the campfire
04 – Nocturne – Transylvania blues
05 – Sonata for solo cello, 3rd movement
06 – Tilinkos, Kodaly's own
07 – Sonatina
08 – The shepherd of hope
09 – Epigram No – 3
10 – Passacaglia
11 – Epigram No – 5
12 – Recruit
https://tinyurl.com/y9c6wfds
Ha kicsomagoláskor jelszót kér, írd be a Zenekucko szót a megfelelő helyre.
Találatok: 7