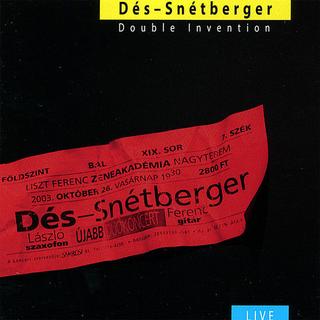 Dés László és Snétberger Ferenc 1987 óta dolgozik együtt. Horváth Kornél közreműködésével, ekkor alapították meg a Trio Stendhal elnevezésű zenekart, mely formáció páratlan népszerűségre tett szert világszerte. A különleges kamarazenét játszó zenekar Európa számos országában fellépett, de Indiában is több koncertet adtak már. 2003. októberében a világhírű szaxofonista-gitáros kettős ismét elkápráztatta közönségét csodálatos muzsikájával, két koncertet is adtak Budapesten, a Zeneakadémián. A két remek zenész előadását a Tom-Tom Hangstúdió rögzítette és egy albumon meg is jelentette 2003 novemberében. A lemez minden olyan zenekedvelőnek páratlan élményt nyújthat, aki szereti, ha a zene meglepő fordulattokkal teli, ha olyan improvizációkkal teli, amelyeket csak élő koncerten tapasztalhat.
Dés László – tenorszaxofon
Snétberger Ferenc – akusztikus gitár
Dés András – bodrán, kanna, ütősök
Tracklist:
01 – Double invention
02 – ReFerence
03 – Rainy day in Roma
04 – Song of the East
05 – Dirty funky
06 – Walking guitar
https://tinyurl.com/yar2rbjj
Ha kicsomagoláskor jelszót kér, írd be a Zenekucko szót a megfelelő helyre.
Találatok: 1