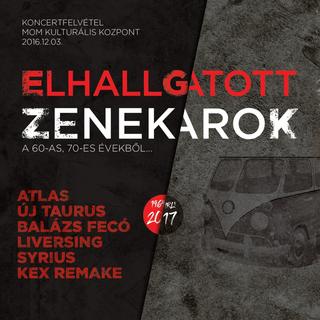 1968 és 1975 között létezett néhány zenekar, akiknek minden fellépése, Budapesten és vidéken egyaránt komoly tömegeket mozgatott meg. Ezek közül is kiemelkedett a Taurus. Már az első fellépésük alkalmával is teltháznyi ember zsúfolódott össze a Budai Ifjúsági Parkban. A koncert végén, a szűnni nem akaró tapsban, őrjöngésben a tömeg a Clark Ádám térre ment, ahol megállítva a közlekedést, már a készülő rendőri intézkedés közepette üvöltötte az ég felé: "Radics Bélát a pártba! Taurust a kormányba!"
Ezeknek a zenekaroknak az akkori jelenléte, fellépései, a zenéje, koncertjei, magukban hordozták a szabadság eszméjét. Az akkori pártvezetés mindent megtett azért, hogy megállítsa ezeknek az együtteseknek egyre növekvő népszerűségét.
Az így elhallgattatott zenekarok sora: Aligátor, Atlantisz, Atlas, Bajtala, Kex, Liversing, Scampolo, Syrius, Taurus, Tűzkerék.
Nem naiv a kérdés: vajon miért kellett elhallgattatni ezeket a zenekarokat? Miért nem tudtak nagylemezt kiadni, miért nem kerülhettek be az akkori médiába?
A 2016. december 3-án, a MOM Kulturális Központban megrendezett koncerten néhány zenekar eredeti tagjai újra színpadra állították zenekaraikat fiatal tehetségekkel kiegészülve és a régi, ismert dalokat, új hangzással, új tartalommal átdolgozva adták elő. Ennek a koncertnek állít emléket ez a kiadvány.
Tracklist:
CD 1:
01 – Atlas: Szombat éjjel
02 – Atlas: Félek, hogy egyszer meghalok
03 – Atlas: Ne várj rám
04 – Atlas: Merre vagy?
05 – Atlas: Töröld le a könnyeidet
06 – Új Taurus: Szólíts meg vándor
07 – Új Taurus: Megátkozott ember
08 – Új Taurus: Napfényes napok
09 – Új Taurus: Tovább
10 – Új Taurus: Királyi madár
11 – Új Taurus: A lángszívű lány
12 – Új Taurus: A bika jegyében
13 – Új Taurus: Lazítás
14 – Új Taurus: Zöld csillag
CD 2:
01 – Balázs Fecó: A kőfalak leomlanak / Anyám, vígasztalj engem! / Amit nem mondhattam el
02 – Liversing: The Nazz Are Blue
03 – Liversing: It's All Over Now Baby Blue
04 – Syrius: Elfáradtam én már / Virágtánc
05 – Syrius: A vámpír
06 – Syrius: I've Been This Down Before
07 – Syrius: Devil's Masquerade
08 – Syrius: God Is Only One
09 – Kex Remake: Find The Cost Of Freedom
10 – Kex Remake: Ez volt a Kex
11 – Kex Remake: Zöld-sárga
12 – Kex Remake: Tiszta szívvel
13 – Kex Remake: A család
14 – Kex Remake: Elszállt egy hajó a szélben
15 – Kex Remake: Kanapé
https://tinyurl.com/yc79vunr
Ha kicsomagoláskor jelszót kér, írd be a Zenekucko szót a megfelelő helyre.
Találatok: 30