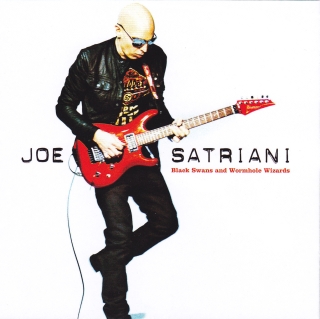 Így szólt a Passzio.hu lemezismertetője: "54 évesen a 14. stúdió albumát adja ki Joe Satriani, a világ egyik legnagyobb hatású rock gitárosa. 11 dalt vett fel a veterán rock producer Mike Fraser (AC/DC, Metallica) vezetésével, Jeff Campitelli dobos, Allen Whitman basszer és Zappa mellett is dolgozó Mike Keneally billentyűs segítségével…
Előző stúdió albuma 2008-ban jelent meg Professor Satchafunkilus and the Musterion of Rock címmel, 2009-ben a Chickenfoot-tal bandázott… és idén év elején már kiadta a Live In Paris: I Just Wanna Rock című élő albumot… Nemrég Tarja lemezén tűnt fel… ja, és 2010. november 08-at minden rajongója piros betűvel írta a naptárába…
Akinek nem volt elég hülye cím a Professor Satchafunkilus and the Musterion of Rock, annak itt a következő: Black Swans and Wormhole Wizards vagyis Fekete hattyúk és féreglyuk varázslók… A névvel ellentétben zeneileg most is sokkal decensebb albumot készített, némi változással, de stílusában maradt, mint korábban mindig, most is tapintatosan és illedelmesen viselkedik.
Technikailag persze nincs változás… Ő ennek az instrumentális rock gitár-hősködésnek az egyik, hanem "a" legnagyobb alakja, gitárjátéka most is zseniálisan kidolgozott… Villog és csillog minden lefogott hangja, mint mindig, most is élmény hallgatni!
Az viszont biztos, hogy Mike Keneally csatlakozása jó dolgokra késztette. A korábbi lemezeknél okosabb lett ez az új! Mondjuk a Professor Satchafunkilus and the Musterion of Rock-on tapasztalt folyamatos önismétlés helyett Keneally-vel, főleg az album második felében – a megszokott hangulatú egyszerű melódiák mellett – free jazz-esen lebegő improvizációs rock is hallható, ami egyrészt portalan és kortalan, másrészt szokatlan Satriani lemezein, talán még sohasem csinált hasonlóan jazzben vibráló világba ágyazott szólókat…
Mike Keneally egyszerűen zseniálisan deformálja Satriani egyszerű és sokszor üresnek tűnő háttereit. A Fekete hattyúk és féreglyuk varázslók második felén sok esetben egyenrangúvá tudja tenni az alapokat Satriani szólóival, és bár a hátterei nem tűnnek nagy kalandnak, egyszerűek és hatásosak, mégis képesek másik dimenzióba repíteni főszereplőnk szólóit… A néhol feltűnő zongora-szintetizátor-orgona szólóit pedig egyszerűen élmény hallgatni… Nyilván öregszik Satriani, keresi a végleges helyét a rock palettán. A Chickenfoot is valami ilyesmi volt szerintem… Ez az album lépés a jazz-rock felé, és bizony Keneally sokat segíthet… ez a mostani helyezkedés most nagyon jó ötletnek tűnik nekem… Ráadásul az is nagyon érdekes, hogy a rockosabb dalokban is sokkal nyitottabbnak tűnik most… Szóval szokatlanul érdekes lett ez az album szerintem, aminek minden rajongója örülni fog!"
Közreműködő zenészek:
Joe Satriani – gitár
Jeff Campitelli – dob
Mike Keneally – billentyűs hangszerek
Allen Whitman – basszusgitár
A számok:
01. Premonition
02. Dream Song
03. Pyrrhic Victoria
04. Light Years Away
05. Solitude
06. Littleworth Lane
07. The Golden Room
08. Two Sides to Every Story
09. Wormhole Wizard
10. Wind in the Trees
11. God Is Crying
Levin 2012. október 18-i bejegyzésének frissítése.
https://tinyurl.com/ybs24nfo
Találatok: 3