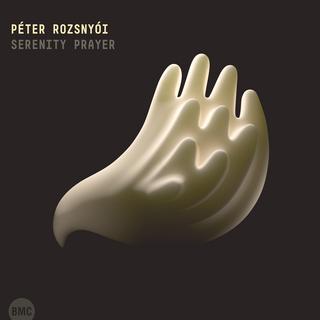 Rozsnyói Péter a hazai jazz szcéna egyik legegyénibb stílusú művésze. A klasszikus zenét is magas szinten művelő zongorista egyéni dallamvilága, csupa szív-lélek muzsikája által a jazzrajongók nagy kedvencévé vált.
Legfrissebb produktuma, a Serenity Prayer esetében szóló zongora albumról van szó, mely Péter 2017. júniusában, az Opus Jazz Clubban adott koncertjének eredménye.
A CD-n kilenc dal csendül fel; hat Rozsnyói nevéhez fűződik, de három közismert jazz standard –What Is This Thing Called Love (Cole Porter), Someone to Watch Over Me (George Gershwin), It Could Happen to You (Jimmy Van Heusen)- is szerepel a repertoárban.
A saját kompozíciók közül a Little Song az, amely hagyományos értelemben vett, "előre megírt" melódia (a Pain of an Angel-en szintén feltűnik), a másik öt darab rögtönzés útján született, koncert közben.
Rozsnyói játékában nagy szerepet játszik a szív-lélek. Most sincsen ez – hála Istennek – másként! Minden hang mély és sokatmondó! Gyönyörű dallamok, melyek a jó ízlés határain belül maradva romantikusak és szentimentálisak, körülölelve J.S. Bach világával, no és a mainstream jazz ínyencségeivel.
A Serenity Prayer méltó imádság egy felettünk álló, minket figyelő, terelgető hatalmasság felé, akit Istennek, Sorsnak, Fénynek és még sokféleképpen hívnak, szólítanak az emberek. A muzsikusok számára nagy ajándék, hogy szavakon kívül, a zene nyelvén is tudnak szólni Hozzá! Most Rozsnyói Péter beavat minket, hogyan kér áldást a zongorát használva közvetítő "eszközként"! Éljünk a lehetőséggel és hallgassuk! ~ Gáspár Károly (jazzma.hu)
Rozsnyói Péter – zongora
Tracklist:
01 – Passing
02 – Little Song
03 – Dreamcatcher
04 – What Is This Thing Called Love
05 – Fable
06 – Blessing
07 – Someone to Watch Over Me
08 – It Could Happen to You
09 – Invocation
https://tinyurl.com/y7ropxy7
Ha kicsomagoláskor jelszót kér, írd be a Zenekucko szót a megfelelő helyre.
Találatok: 3