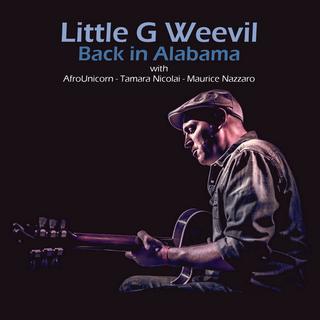 Hazánk nemzetközi szinten legelismertebb blues előadója, Szűcs Gábor, vagyis Little G Weevil nemrég Back in Alabama címmel stúdió és koncert felvételeket felvonultató albummal örvendeztetett meg bennünket.
Igazi bluesos anyag, tradicionális, egyszerű, déli hangzással. A tőle megszokott apró kis csavarok persze ott vannak a szerzeményekben. Kilenc új dalt és két feldolgozást tartalmaz a lemez. A szóló számok mellett több nótában két vokalista hölgy, Carla és Rachel, azaz az AfroUnicorn duó vendégszerepel, illetve Tamara Nicolai nagybőgőn és Maurice Nazzaro szájharmonikán közreműködik. Még szeptemberben rögzítettek mindent egy alabamai koncert alkalmával, illetve az élő stúdió felvételek is abban a kisvárosban, Columbianában készültek. Vidám műsor, énekelhető, dúdolható nóták, jó kis szövegek és groove-ok jellemzik. Gábor január végén indul európai turnéra. Spanyolországban kezd, majd következik Hollandia, Belgium, Németország. Február közepe-vége fele tervezi a magyarországi lemezbemutatókat.
Tracklist:
01 – When the King Was Told
02 – She Don`T Know
03 – Braggin`
04 – Thank You for the Cruise
05 – World Is Mine
06 – Gulf Coast Jam
07 – Keep Going
08 – John Is the Man (John Mcafee)
09 – Sasha Said
10 – Poor Black Mattie
11 – Angel Child
https://zenekucko.com/ligwebacal
Ha kicsomagoláskor jelszót kér, írd be a Zenekucko szót a megfelelő helyre.
Találatok: 6