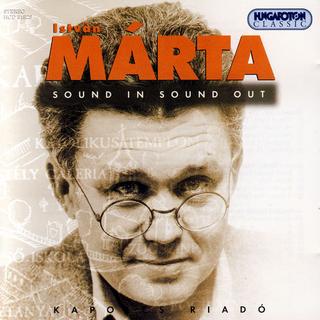 A 900 éves Kapolcs újkori történelme egy 1985-ben egy Kapolcson készült hanglemezzel, Márta István Támad a szél – Kapolcs riadó című hangnaplójával kezdődött. A nagyközönség által főként a Művészetek Völgye vezetőjeként ismert Márta István egyesek szerint a kortárs zeneszerzők egyik legtehetségesebbje, mások viszont csak ügyes koppintónak vagy egyszerűen életművésznek tartják. Egy dolog biztos: a kortárs-, a színházi és a filmzene területén, valamint az apró falu, Kapolcs életében jelenléte nem negligálható.
A Támad a szél / Kapolcs riadó lemez mindenesetre e színes életpálya egyik jelentős állomása. 1985/86-ban vették fel, Kapolcson és környéke, rajta egészen rendkívüli, zenei világában és habitusában erősen sokszínű társaság verődött össze. A két alkotótárs, a hangskiccekért felelősBernáth(y) Sándor és a szövegeket jegyző Szkárosi Endre mellett többek kötött Cseh Tamás, Dés László, Nagy Feró, Sebestyén Márta, Szemző Tibor, Török Ádám és az Amadinda szerepel rajta, általában nem a megszokott zenei környezetében.
Elektropleinair hangnapló, jelzi az LP alcíme, hangzatosan, de lényegre törően. Ahogy Sebestyén Márta által énekelt erotikus műnépdal és a moldvai csángó öregasszony régies siratkozása egymásba fonódik; ahogy a helyi fatelep gépeinek zakatolása keveredik a légies szaxofonfutamokkal; ahogy a neves kompánia a kocsmában pattogó álcsasztuskát énekel, ahogy a nyári zsongó mezőn át beszűrődnek a falu zajai – mind-mind különleges, egyedi és megismételhetetlen pillanatok sorozata. Minden tétel külön történet egyben, hamisítatlan mártai eklektikával, szónikus gesztusokkal és fordulatokkal. Semmi erőlködés, semmi izzadságszag, csak szabad utat engedve a zenei és szellemi folyamatoknak.
"A Hangnapló érzések, dokumentumok hordalékából rögtönzött időleges kiállítás, a természettel megszűnő kapcsolat feltérképezése" Mártha István, 1986
A zenetörténeti jelentősségű album 1998-as remaster CD újrakiadásán bónuszként helyet kapott még a közel félórás, öt tételes Az üvegfúvó hetedik álma című szvit.
Bernáth Y Sándor – ének, gitár, szifu
Szkárosi Endre – vocoder, ének, dob
Nagy Feró – ének, szaxofon
Cseh Tamás – ének
Sebestyén Márta – ének
Szabó Csilla – ének
Bodó Péterné – ének
Bodó Mária – ének
Török Ádám – fuvola
Dés László – szaxofon
Gőz László – harsona
Kiss Tünde – hárfa
Füzes Péter – kürt
Róbert György – töröksíp
Szemző Tibor – csövek
Balogh Kálmán – cimbalom
Verebes Linda – felolvasás
Horváth Kornél – ütőhangszerek
Márta István – szintetizátor, gitár, ének, zongora, ütőhangszerek, templomi orgona, karmester
Amadinda ütőegyüttes
Mandel Quartet
Wyximfonikusok
Wyx vonósnégyes
Tracklist:
Támad a szél – The Wind Rises:
01 – Támad a szél – The Wind Rises
02 – Munkadal – Work Song
03 – Fatelep – Timberyard
04 -Templom – Church
05 – Október – October
Kapolcs riadó – Kapolcs Alarm:
06 – Erdei opera – Forest Opera
07 – Rom – Ruin
08 – Kapolcs riadó – Kapolcs Alarm
09 – A határ – The Fields
bónusz:
Az üvegfúvó hetedik álma – The Glass-blower's 7th Dream:
10 – I.
11 – II.
12 – III.
13 – IV.
14 – V.
A veszteségmentes változatért külön köszönet rworse-nek!
https://tinyurl.com/ybhza7nb
Ha kicsomagoláskor jelszót kér, írd be a Zenekucko szót a megfelelő helyre.
Találatok: 11