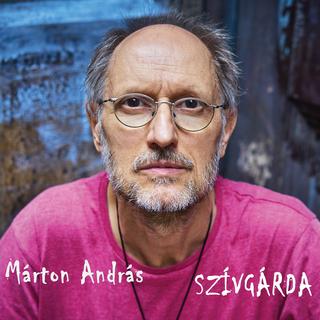 A popzene történelmében nem hagyományok nélküli dolog a dobfelszerelés mögül a mikrofonhoz előrelépő dobos: Ringo Starr, Phil Collins, Don Henley – hogy csak néhány nevet említsük. Márton András most első nagylemezét mutatta be, amely Szívgárda címmel jelent meg december 7-én, a zenész 64. születésnapján.
"Olyan albumot akartam kiadni, amin a saját szerzeményeim vannak. Öt új szám mellé négy került fel KFT-lemezekről, amiknek én írtam a zenéjét és kettő kivételével a szövegét is. Ezek már a kétezres években jelentek meg, sokkal kevésbé ismertek, mint a korábbi KFT-k, ezért sokan újnak fogják hallani őket" – vázolta Márton András első szólóalbuma koncepcióját. A lemezen hallható összes dalt Márton András énekli és dobolja. A lemez címadó dalát eredetileg 2003-ban rögzítették egy KFT-lemezre, de akkor nem készült el véglegesen. Az albumon Márton KFT-s zenésztársain kívül (Bornai Tibor, Laár András, II. Lengyelfi Miklós) olyan ismert hazai zenészek dolgoztak, mint Háry Péter, Mohai Tamás, Premecz Mátyás, Szekeres András, ifj. Kurtág György, Kelemen Angelika, Péterffy Máté és a Csillag Kórus.
Tracklist:
01 – Csak alszom
02 – Kérj bármit
03 – Zumamma
04 – Kalapácsember
05 – Guard of Hearts
06 – Szerelem az űrhajó
07 – Hiányzó láncszem
08 – Szép új másvilág
09 – Madárijesztő
https://zenekucko.com/maransziga
Ha kicsomagoláskor jelszót kér, írd be a Zenekucko szót a megfelelő helyre.
Találatok: 2