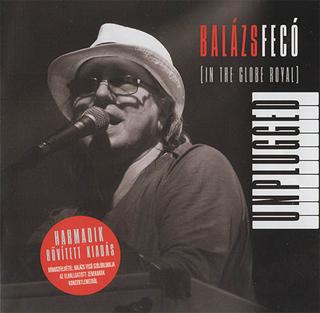 Vannak lemezek, amik sosem mennek ki a divatból, amikre évtizedekkel a megjelenésük után is igény tapasztalható. Ilyen Balázs Fecó Unplugged (In the Globe Royal) című albuma, melynek felvételére 1996. január 30-án került sor neves jazz-zenészek és kedves pályatársak (Kovács Kati és Sztevanovity Zorán) közreműködésével.
Fecó zenéjét a kor hangulatának megfelelően Malek Miklós öntötte akusztikus formába. A remek koncertlemez ezidáig két alkalommal látott napvilágot: 1996-ban, majd 2011-ben új borítóval ismét megjelent.
Ezúttal azonban az eredeti hanganyagot Rozgonyi Péter digitálisan korszerűsítette és bónusz koncertfelvétellel látta el. A lemez végére Fecó szólóblokkja került, amit az Elhallgatott zenekarok a 60-as, 70-es években című koncerten, a MOM Kulturális Központban, 2016. december 3-án vettek fel. Az ismét friss borítóval ellátott harmadik kiadás gyűjtőknek kötelező, rock rajongóknak jó szívvel ajánlott.
Balázs Fecó – ének
Kovács Kati – ének (Forog a kerék)
Zorán – ének (A lány, akire szerelemmel nézhetek)
Marschalkó Zoltán – gitár
Tóth Gyula – gitár
ifj. Rátonyi Róbert – zongora
Nagy János – szintetizátor
Csepregi Gyula – szaxofon
Ferenczi György – szájharmonika
Vasvári Pál – basszusgitár
Borlay Gergő – dob
Horváth Kornél – ütőhangszerek
Herczeg Judit, Krassy Renáta, Szalontai Szilvia – vokál
Tracklist:
01 – Bevezetés, Anyám, vigasztalj engem, Amit még nem mondhattam el
02 – Homok a szélben
03 – Kölykök a hátsó udvarból
04 – Forog a kerék (duett Kovács Katival)
05 – A csönd éve
06 – Kergesd el a felhőt a házamról
07 – Kevés voltam neked
08 – Évszakok
09 – Új név egy régi ház falán
10 – A lány, akire szerelemmel nézhetek (duett Sztevanovity Zoránnal)
11 – Maradj velem
12 – Hazafelé
Bonus track:
13 – A kőfalak leomlanak, Anyám, vigasztalj engem!, Amit nem mondhattam el
https://tinyurl.com/y3n4x7bh
Köszönet thoms01-nek (Naftamusic), az eredeti feltöltésért!
Ha kicsomagoláskor jelszót kér, írd be a Zenekucko szót a megfelelő helyre.
Találatok: 9