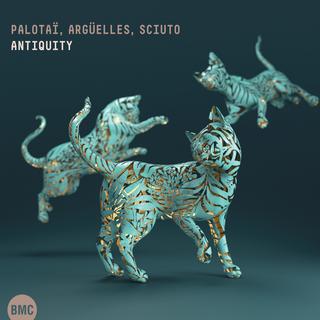 Palotai Csaba gitárjában van valami excentrikus csináld-magad hangzás, ami azokra jellemző, akik szívesebben indulnak, mint érkeznek, és akik könnyebben lélegeznek egy lomos pincében, mint egy felújított kastélyban. Palotai Csaba hangja karmol, felsért, harap. Ezt a hangot nem lehet megszelídíteni, hagyni kell, hogy felszítsa magát, mint egy meggyújtott farakás. A gitárosok szeretik mutatni, hogy ők gitárosok. Palotai Csaba inkább el akarja felejtetni velünk.
A hangzásbeli sokféleség, elegancia és alázat az a szentháromság, ami legjobban definiálja ezt a gitárost, aki – főképp a rögtönzésekben – inkább fölfedezi az önmagában levő hangokat, mintsem a semmiből alkotja őket. És ami a legmeglepőbb: a csapat, amit az Antiquity-hez összeállított, a francia szaxofonos Rémi Sciuto és az angol ütős Steve Argüelles, ugyanezekkel a vonásokkal jellemezhető. (Mathieu Durand kísérőszövegéből)
Palotaï Csaba – gitár
Rémi Sciuto – bariton- és szopranínószaxofon
Steve Argüelles – dob, omnichord
vendég:
Vincent Ségal – cselló
Tracklist:
01 – Karma Junction
03 – The Young Poet G. M.
04 – Streets of Mexico
05 – Brigida
06 – The Seventh
07 – Photos
08 – 5 a.m.
09 – V Game
10 – The Rite
11 – Summerset
12 – Storm in Paris
https://tinyurl.com/y63tfmly
Ha kicsomagoláskor jelszót kér, írd be a Zenekucko szót a megfelelő helyre.
Találatok: 4