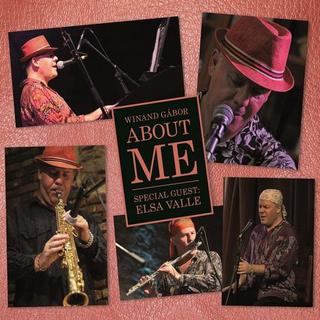 Az 1964-ben született művész immáron évtizedek óta a hazai jazz szcéna egyik meghatározó, kiemelkedő alakja. Talán nincs is olyan élvonalbeli jazzista Magyarországon, akivel legalább egy-egy koncert erejéig ne működött volna együtt. Nos, Gábor ezúttal egy szólólemezzel jelentkezett, "About Me" címmel. Az első olyan album ez, amelyen gyakorlatilag egyedüli közreműködőként hallhatjuk Őt. Persze a modern stúdiótechnika lehetőségeit kihasználva készült el a felvétel, tehát több sávra lettek rögzítve az énekszólamok, melyeket zongorán és/vagy szintetizátoron kísért Winand, sőt, szaxofon és fuvola játékával is fűszerezte azokat.
14 dal csendül fel a korongon, ezek kivétel nélkül Winand Gábor kompozíciói. A szövegeket Elsa Valle-nek köszönhetjük, aki a magánéletben és a színpadon egyaránt Gábor párja. Elsa kubai származású, szintén fantasztikus énekes, a hazai közönség nagy kedvence. ~ Gáspár Károly (jazzma.hu)
Winand Gábor – ének, zongora, szintetizátor, szopránszaxofon, fuvola
Elsa Valle – ének (10, 14)
Tracklist:
01 – Sparkle of Stars
02 – Mi Canto
03 – On the Way
04 – Miles
05 – Mis Pasos
06 – Estrella Fugaz
07 – Laberinto
08 – Melancholy
09 – Bop Fantasy
10 – Entacona
11 – Dos al (Two Souls)
12 – Melancholy Sopran Part
13 – Pajarito
14 – Chacota
https://tinyurl.com/y48tvkyc
Ha kicsomagoláskor jelszót kér, írd be a Zenekucko szót a megfelelő helyre.
Találatok: 1