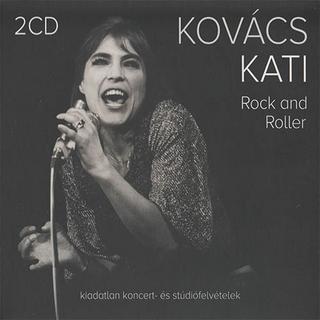 Kovács Kati Kossuth- és Liszt Ferenc díjas előadóművész, színésznő, dalszövegíró, minden idők egyik legkiemelkedőbb, legsikeresebb magyar énekesnője. Az 1965-ös Ki mit tud? óta megkerülhetetlen alakja a hazai könnyűzenei életnek.
A Rock and Roller címmel kiadott dupla CD első korongján az 1974 és 1982 közötti időszakban a Magyar Rádió által készített koncertfelvételek szerepelnek.
"Koncertfelvételek Kovács Katitól korábban soha nem jelentek meg hanghordozón. Több ezer koncertet adott eddig, sajnos, ezekből nagyon keveset rögzítettek, a rádióban pedig sok 1975 előtti felvételét törölték a szalagról az egyszeri sugárzás után.
A mostani válogatásban ott van például a Szabó Gábor gitárossal a hetvenes évek közepén rögzített két szám, a V' Moto-Rock kíséretében hallható dalok, a Találkozás egy régi szerelemmel, a Nálad lenni újra jó lenne vagy a címadó Rock and Roller" – sorolta Winkler Dániel egyetemi docens, aki a kiadvány szerkesztője volt, és aki a digitális utómunkát is végezte.
A második CD 1967 és 1997 közötti, korábban meg nem jelent stúdiófelvételekből mazsolázik, szintén az MR archívumából. A kiváló hangszerelésű dalok között szerepel mások mellett a Metro együttes előadásában is ismert Álmodozom a világról, a Vukán György zenéjére és Bacsó Péter szövegére készült Helló, doki, valamint olyan szerzőktől számos felvétel, mint Koncz Tibor, Fényes Szabolcs, Victor Máté, Bágya András, Szenes Iván és S. Nagy István.
Tracklist:
CD1:
01 – Szólj rám, ha hangosan énekelek
02 – Ahogy nőnek a gyerekek
03 – Holnaptól nem szeretlek
04 – Egy nyáron át
05 – Fémzene
06 – Nálad lenni újra jó lenne
07 – Felesleges esték
08 – Találkozás egy régi szerelemmel
09 – Egy nagy szerelem
10 – Volt egy őrült éjszaka
11 – Hová tűnik el a csillag
12 – Rock and Roller
13 – Én igazán szerettelek
14 – Ugyanez az utca ez
15 – Az eső és én
16 – My Love
17 – Mindent, ami szép
18 – Hogyha elhagysz
19 – Várlak
20 – Kötődés
21 – Szívemben zengő dal
22 – Így legyen
CD2:
01 – Álmodozom a világról
02 – Rosszul sikerült a mi szerelmünk
03 – Neked se jó
04 – Gyermekszemmel
05 – Miért jársz egyedül
06 – Művészparcella
07 – Egy nyári nap
08 – Remélem azt
09 – Ne is gondolj rám
10 – Élek, ahogy a többiek
11 – Ma rád gondolok
12 – Van ilyen
13 – Még el sem indult
14 – Néha még álmodozom
15 – Nem elég
16 – Helló, doki
Köszönet thoms01-nek (Naftamusic), az eredeti feltöltésért!
https://tinyurl.com/y68y6ccs
Ha kicsomagoláskor jelszót kér, írd be a Zenekucko szót a megfelelő helyre.
Találatok: 7