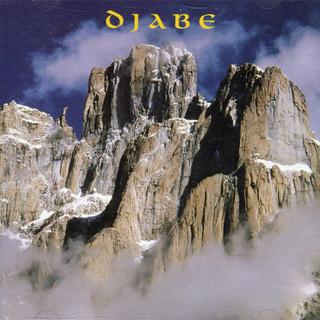 Az első album egyszerűen csak a Djabe nevet viseli. Miként oly sok zenekar a világon, a Djabe is egy­fajta zsengének tekinti első albumát, de azt ők maguk is elismerik, hogy nagyon sokan szeretik. Feltehetően azért, mert ebben a bő egy órában már benne vannak mindazok a törekvések, hang- és ihletkísérletek, amelyek a következő 20 évben kibomlottak, és letisztultak. Itt még minden üdítően nyers, mondhatnánk, fésületlen, de mégsem kaotikus. Az ismertető szerint "a Djabe a Novus Jam tagja­iból és barátaikból" áll. Az albumot alapvetően Attila rakta össze, hol Sipit, hol Karaly Tibit hívta alkotótársnak. A többi Novus Jam és meghívott zenész csak alkalmi közreműködők voltak. A Djabe név nem is zenekart jelölt, hanem az elkészült album címe volt eredetileg. 
Barabás Tamás – basszusgitár
Égerházi Attila – gitár
Sipos András – ének, ütőhangszerek
Gesztelyi Nagy Judit – fuvola
Karvaly Tibor – billentyűs hangszerek, hegedű
Kovács Ferenc – trombita, hegedű
Rácz Tamás – gitár
Tracklist:
01 – Camel Run
02 – Leaving the Desert
03 – Late Night Drink
04 – Djabe
05 – Northern Adventure
06 – Sorcerer
07 – Deja Vu
08 – Hagar Qim
09 – Hangover
10 – Chase
11 – November
12 – Demon
13 – Ocean
14 – Passage
15 – Venezia
16 – Waiting for a Distant Dance
17 – Djabe Part II.
Külön köszönet Nagygazeberimi-nek a lemezért és az eredeti feltöltésért!
https://tinyurl.com/y6kmhh34
Ha kicsomagoláskor jelszót kér, írd be a Zenekucko szót a megfelelő helyre.
Találatok: 4