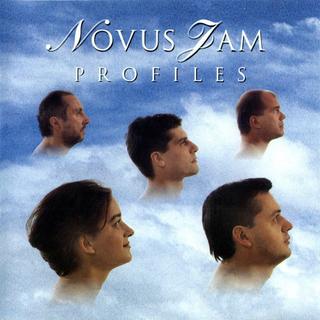 A Novus Jam zenekart Égerházi Attila és Gesztelyi Nagy Judit alapította. Zenei tekintetben a Djabe elődjének tekinthető, hiszen ebben a zenekarban kezdte együttműködését Sipos András és Égerházi Attila. A Novus a Djabéhoz képest befeléforduló, meditatívabb zene. A fuvolajáték intenzítása nagy koncentrációt igényel a hallgatótól.
A Profiles a Novus Jam első önálló CD-je, mely az alapítás után 10 évvel jelent meg, jól összefoglalja mindazt, ami a zenekart fennállásának megelőző 10 évében zeneileg jellemezte. Ez a felvétel Égerházi Attila és Sipos András első közös munkája.
Gesztelyi Nagy Judit – fuvola, ének
Égerházi Attila – gitár
Rácz Tamás – gitár
Sipos András – ütőhangszerek
Bubik István – ütőhangszerek
Muck Ferenc – szaxofon
Tracklist:
01 – The Island, Where The Wind Always Blows
02 – Crazy Dance
03 – Profiles
04 – Fairy Dance
05 – Diamond
06 – Yo No Quisiera
07 – In The Garden Of The Castle
08 – Desires
09 – Deathbell
10 – Gallop
11 – Via Appia
12 – Sighes
13 – Have No Fear, World
14 – Force
Külön köszönet Nagygazemberimi-nek a lemezért és az eredeti feltöltésért!
https://tinyurl.com/y6lq3kqj
Ha kicsomagoláskor jelszót kér, írd be a Zenekucko szót a megfelelő helyre.
Találatok: 2