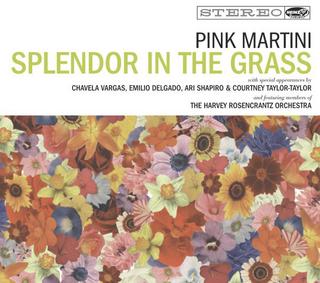 A Pink Martini negyedik nagylemeze is nekifut a világ különböző helyeinek, korainak és kultúráinak, melyek aztán – az együttes akaratának engedelmeskedve – nagy-nagy barátságban keverednek el egymással. A Splendor In The Grass magabiztos félmosollyal és megfontolt szerkesztő-munkával mutatja be egymásnak a szitárt és Kubát vagy épp a swinget és Schubertet. Férfi és női hangok duruzsolnak, itt-ott komolyan véve magukat, de inkább annak adva hangot, hogy valójában játékról van szó, méghozzá olyanról, ami egy fröccs mellett is ugyanúgy szórakoztat, mint konyakkal a kézben. 
A Pink Martini tulajdonképpen az arisztokratikus hűvösség és a játékos könnyedség határvonalain jár, és egyszer-egyszer el is köteleződik valamelyik oldal felé, ami a lounge zenéket kedvelők számára üdítő és üdvözlendő feszültséget szül e lemezen is. A több nyelven (például franciául, angolul vagy spanyolul) énekelt számok, a részletgazdag hangszerelés és a Thomas Lauderdale-vezette zenekar eklektikus, mégis összetartó dalrendje élvezetes zenei színházat teremt, szerelemmel, drámával és valószínűsíthetően szándékos, frakkokba gyűrt, óvatos ripacskodással.
Tracklist:
01 – Ninna Nanna
02 – Ohayoo Ohio
03 – Splendor In The Grass
04 – Où Est Ma Tête?
05 – And Then You're Gone
06 – But Now I'm Back
07 – Sunday Table
08 – Over The Valley
09 – Tuca Tuca
10 – Bitty Boppy Betty
11 – Sing
12 – Piensa En Mi
13 – New Amsterdam
14 – Ninna Nanna (Reprise)
Külön köszönet Nagygazemberimi-nek a lemezért és az eredeti feltöltésért!
https://tinyurl.com/yxnqoz2s
Találatok: 1